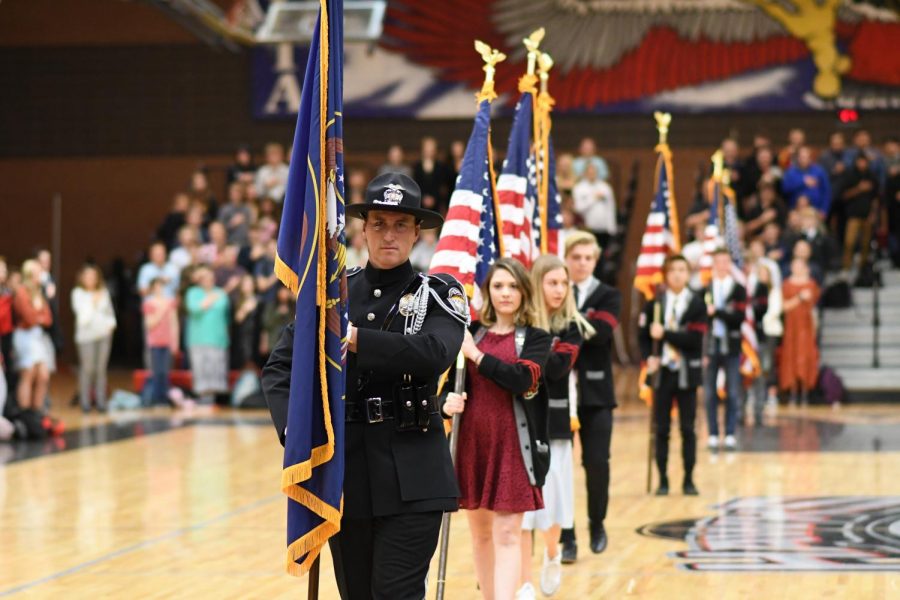 Veteran's Assembly
Attention Hawks! Tomorrow is Veterans Day, and as tradition Alta is going to be dressing in Sunday Best!
Every year, with the exception of COVID-filled 2020, Alta has honored veterans with an Assembly. The assembly will be held tomorrow after 5th period, in place of Advisory, in the new Gymnasium! It will be the first assembly to be held in the Gym since 2019! Every year Alta graciously hosts many veterans related to Alta students, and veterans who live within our community, including a few Alta faculty members!
"
For me, it's an opportunity to appreciate all the freedom and blessings that we enjoy living in America."
— Denise Ferguson
The Veterans Day Assembly is always serene and reverent as it is a time to pay homage to those who served our country. Alta wants all students to please attend and pay respect the brave men and women who served. Denise Ferguson, teacher at Alta, thinks "it's important to celebrate Veterans Day since not enough students understand how blessed they are to live in this country; people take it for granted."
Student Government's goals for this assembly are to help the Veterans "feel appreciated and for the students to realize what they are taking for granted", says Justice Cole.
The assembly will be filled with a special performance by the Ballroom team. The Drill Team will perform the flag ceremony.
Ballroom dancer Cali Jeppson said the dance will be a "Top Gun" spin-off in Air Force jumpsuits. This dance is different than the traditional soldier-wife dance. The dancers are "super excited to be able to perform in the new gym in front of a crowd."
Make sure to dress up nice to honor those who sacrificed for our country!