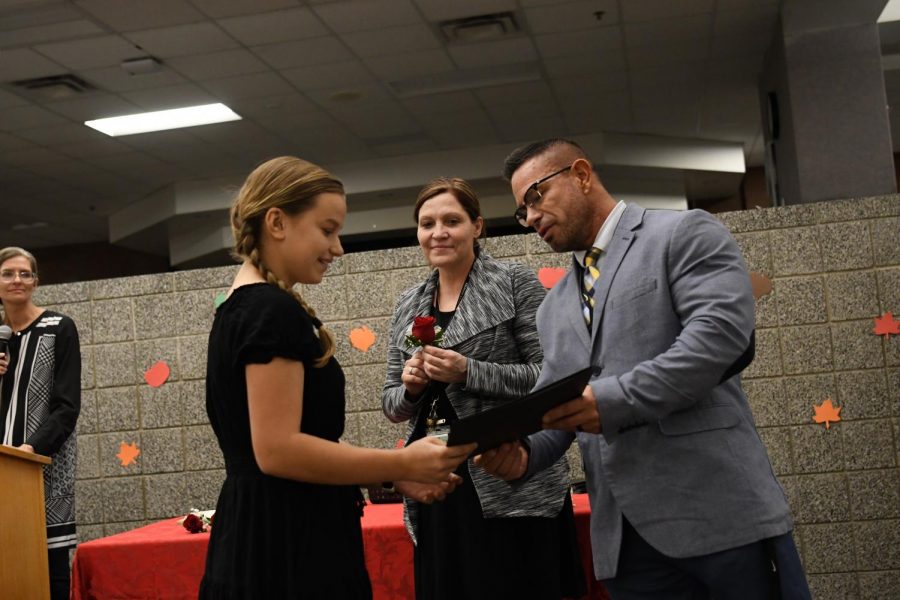 Alta's Sterling Scholars Announced at Evening Ceremony
Sterling Scholar recognizes outstanding scholars, leaders and citizens in our community.
Alta Hawks have a tradition of excellence, and this week has been a special chance to recognize some of the school's most outstanding students with Sterling Scholar awards!
This year's scholars were chosen by individual school department committees from 40 applicants competing for the coveted 14 spots in various categories.
The Sterling Scholars this year are: Jack Johnson in Computer Technology, Seth Ricks in Skilled and Technical Sciences Education, James Numbers in Mathematics, Katelyn Mooney in Vocal Performance, Ryan Wilkey in Dance, Andrew Jex in Visual Arts, Abby Hansen in Social Sciences, Lauren Gassman in English, Merrin Maughan in Speech / Theater Arts / Forensics, Katherine Numbers in Instrumental Music, Rachel Jefferson in Family and Consumer Sciences, Alex Brown in Science, Paige Blair in World Languages, and Mariam Safeudian in Business and Marketing.
Additionally, the following students received Accolade awards in their respective categories. They are: Ellie Vander Veur in Vocal Performance, Kate Spencer in Dance, Alexandra Berry in English, Jaxson Baker in Speech / Theater Arts / Forensics, Tyler Hansen in Instrumental Music, Sierra Douglas in Science, and Ian Ackermann in World Languages.
"
Sterling Scholars looks like an amazing opportunity to connect with others interested in the same fields as me, and I am excited to see the results!"
— Merrin Maughan
It is an honor to be chosen the "best" in a given category at the school level.  Sterling Scholars will then assemble a portfolio detailing their accomplishments and then go on to compete at the region level. If they make that cut, they go on to compete at the state level.
"The [winners of the Sterling Scholars] move onto a state competition, where the students at that level compete for a renewable scholarship at a state school," says senior and sterling scholar applicant, Merrin Maughan. "It's a great opportunity for seniors who want to stay in Utah for their undergraduate degrees, and it comes with a lot of honor surrounding what you've accomplished in high school."
The Sterling Scholar program offers up a $3,000 scholarship to all of the Utah colleges and BYU Idaho. However one can only get this scholarship after winning their division of the high school Sterling Scholars.
These winners will also be recognized by KSL and Deseret News and will be able to compete at the region level and, hopefully, the state level. "The competition gets tougher the longer you go in the competition," says Sterling Scholar Chair Heather Heffner.