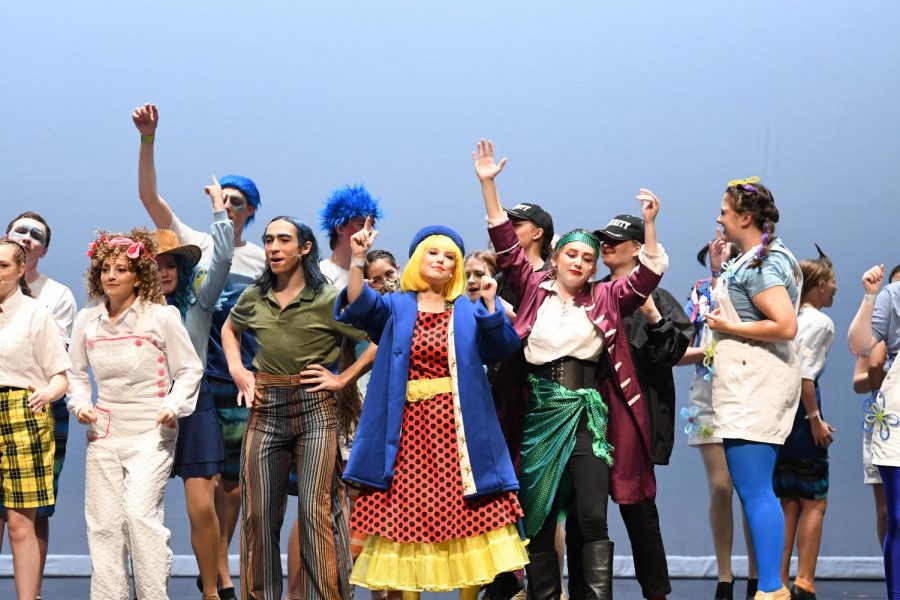 Alta's Spongebob the Musical Ends Production
After seven shows, Alta Theater finishes this years musical performance!
This year's school musical was a smashing success! With great music, humor, and an important message, Alta debuted this years Spongebob the Musical for a week of performances in the Performing Arts Center.
The musical followed Spongebob Squarepants (Anna Teichert), Patrick (Andrew Mchenry), Sandy (Ellie Vander Veur), and the whole town as they confront an active volcano! The musical is full of amazing songs, performed by a live pit orchestra, and its conductor Caleb Shabestari. This was the orchestra's first time performing in the PAC musical pit, and they agreed it was a great experience!
Looking back at the musical, there were a lot of unique things about this performance and parts that the cast and directors will definitely miss. "The cast did a great job and really gave amazing performances," said Director Linze Struiksma. "They gave off electric energy each night that excited the audience, and that's what you hope to achieve."
For Shabestari, this musical is a musicians dream come true. He loves this musical because each song is written by a different artist. It has music by David Bowie, Cyndi Lauper, John Legend and more.
"It made for a very fun experience," Shabestari said. "We played different styles of music: Gospel, Rock, and even Rap."
For the seniors in the show, it was their last chance to perform with friends they have known for the last four years. "I'm going to miss the whole experience," said Jack Milner who played Squidward. "Everything from the long rehearsals, energy games before performances, and leaving it all out on the stage."
Junior Brody Gibbs said he will miss seeing the cast and crew so often. "Everyone involved really becomes family over the course of the show," he said.
By the time the musical ended, everyone knew and felt the word "exhaustion." Seven performances in all in six days made for a very busy schedule. They performed their hearts out and and just had fun.
Several actors have already been nominated for state high school theater awards including Anna Teichert,  Andrew McHenry, Ellie Vander Veur, Jack Milner, and Makenna Stevens.
Struiksma also noted the musical has a lot of stand out moments, but the lighting adds to the ambience and feel. Tim Holt and Sunny Hornbaker are responsible for that. "The lights were our best yet," she said.
In the end, the students will miss seeing each other every day. Andrew McHenry will definitely miss hanging out with his friends, but more than that, he will definitely miss "being worshipped by adoring sardine devotees."
So, what's next for these theater enthusiasts? Many will try out for parts in the upcoming school play, The Last Night in Ballyhoo, a comedy / drama set in 1939. The theater department is primed and ready to leap head first into another production.