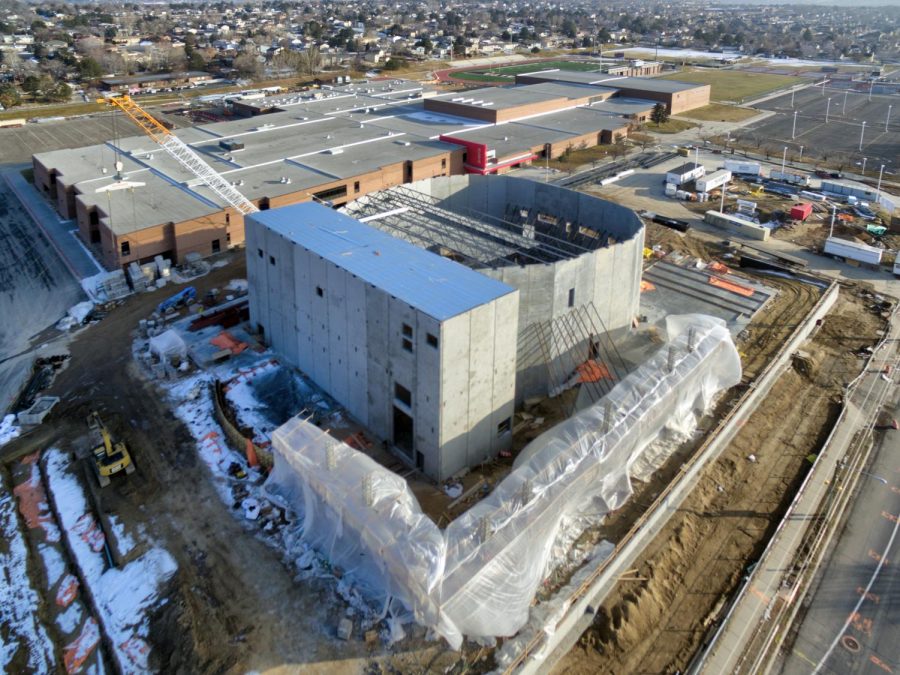 Four Years of Building Remodeling and Construction Come to an End
Alta's Construction over the past four years has been up and down and is now finally completed. The construction started in the Summer of 2018 and will end in January. 
Students and teachers have been affected by the construction in multiple ways, but everyone seems satisfied with the final result. 
The numerous projects include a new Performing Arts Center, a new student service wing including main office, attendance office and counseling center, the new fieldhouse just north of the football field, a new faculty and visiting parking lots, heating and air conditioning upgrades, new band, choir, and theater spaces, and a new commons. The remodeled commons is probably the most noticeable and used remodeled space because students can't miss walking in, through, and past the commons on a daily basis.
The last phase of construction includes a new kitchen for the cafeteria and a remodeled gym. The gym is finally finished and the kitchen will open in January.
Total cost of Alta's remodels / new construction is around $55 million that came from a voter approved bond issue in 2018. The new Hillcrest and Brighton high schools built from the ground up were also part of the total $250 million bond.
Covid-19 hit the second year of construction when the Performing Arts Center and the Commons were being built and remodeled, and everything was put into lock-down with both an unfinished commons and performing arts center. The shutdown that sent students online for schooling after March 13, 2020 had a silver lining. Having no students in the building allowed construction crews to attack the commons at full speed. 
The commons ended up being finished a full half year before expected. That part of the building was available for student use one year ago. Not having the commons was a challenge; students had to eat lunch in the east gym for a good year.
The latest phase of construction are the gym and the school kitchen / cafeteria. That disrupted sports team practices sending those athletes to nearby schools for practices. The girls Volleyball teams and both girls and boys basketball teams had to change locations when it practice and game time.
"The construction felt like forever," said wrestler Cameron Randeu. "My teammates had a hard time finding a place to wrestle."
 The new gym was worth the wait. The new gym floor and painted walls as well as new scoreboards have lightened the atmosphere and make for a bright welcoming gym. Gym teachers had to adjust and teach classes outside and in the fieldhouse during construction. "It was definitely hard trying to find a classroom/something to do for the students in the cold weather," said Coach Izzy Gustafson.
"
I remember the construction being insanely long, never-ending in a way but also very exciting to see what the finished product was. "
— Izzy Gustafson
Yearbook advisor Denise Ferguson is especially happy with the gym because the lighting is so much better for sports photos. "Cameras don't lie," Mrs. Ferguson said. "Because of the brown walls, photos taken in the old gym had an orange hue to them and had to be corrected in photoshop. Now, with the white walls and lights, the photos come out close to perfect."
Senior basketball player Jett Lundberg is also happy the construction era is coming to an end. "Construction caused a lot of chaos in the hallways," he said. Extra walls and blocked hallways made it more difficult to get from one place to another."