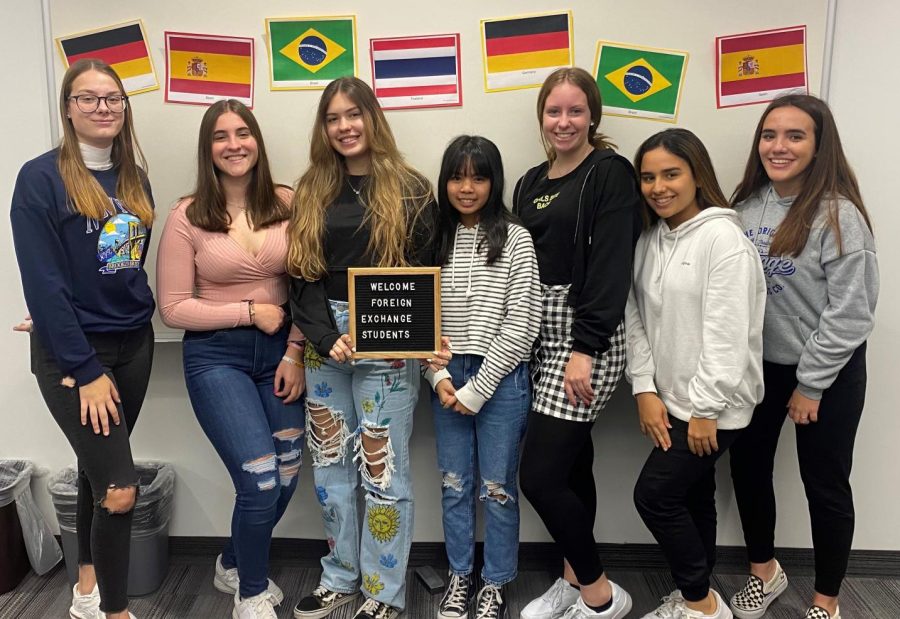 Exchange Student at Alta Reflect on Their Experience in America So Far
This year Alta is honored to host seven foreign exchange students.
Moving across the world alone to a new place, with a new language, with different people can be hard. It could take people up to months or years to get used to their new living arrangement, environment, and culture. With that in mind, being a foreign exchange student would be extremely difficult.
Celia Martinez and Amelie Kossler are two exchange students at Alta being hosted by the same family. Amelie is from Germany and Celia is from Spain, two very different places, but America brought them together to form a beautiful friendship along the way.
All the exchange students have noted that America is very different than countries in Europe whether it be the environment, education, or other things. In Europe, the education system is more controlled by the school than the students. In Utah, students are free to choose most of the classes they want, but also you're required to take core classes. Something different, Amelie says is "the subjects. You can't choose what you want to do in Germany."
"
We love America and hope to see more of it, but leaving what we are used to has been quite challenging."
— Amelie Kossler
The environment in America differs a lot from environments anywhere else. Each country has its different traditions, laws, systems, and cultures. Schools in America are way different than schools anywhere else because students are provided more freedom. The education system has its own rules that make it different. Celia has noticed a big change in how the schools differ from each other "Alta is way bigger and the classes are way different."
Arianne Frederico, an exchange student from Brazil here in Alta has noticed how different it is here with the environment and people. "It's totally different, in Brazil, it's really common to hug and give a cheek kiss to say bye." Celia Martinez also adds that "people in Spain are more open, they talk to you more."
People move away from their home towns to experience new places and meet new people. The same thing is happening to Celia and Amelie, they both moved here to see more of the world than the small home towns that they grew up in. All together America has been fun but challenging for the girls. This is a rare opportunity and a wonderful experience that can shape them forever.