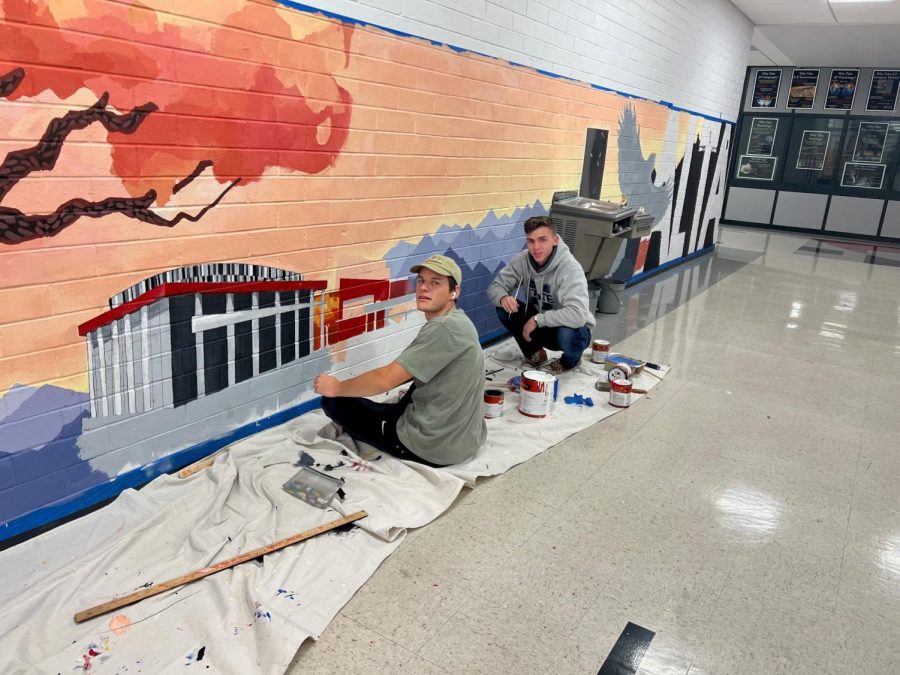 New Mural Near Media Center Commemorates Alta
Alumni from the class of 2019 create a mural of Alta's ongoing legacy.
The new mural near the east Media Center entrance is finished, thanks to a couple of alumni who sent out to comemorate Alta's 40 year legacy.
A lot at Alta has changed in the past few years, and according to artists Darby Hayes and Ethan Thayne from the class of 2019, the mural depicts the school's history from 1978 to the present.
"We wanted to tie in older Alta with the new history of Alta," said Hayes, Student Body Vice President in 2019. "It was the perfect way to give a gift and leave our mark."
Their mural begins with a picture of the original school building. As the mural continues it pictures the new school building; newspapers fill the bottom of the mural, showing Alta's legacy through years of news articles. It ends with a Hawk flying past the word "ALTA."
This artwork represents the change that Alta has undergone over the years, as well as it's continuing legacy and excellence. It helps inspire school spirit and remind our hawks of our history and achievements.
"This murals leaves a place that represents both the old and the new," Thayne said.
The student response to the mural is positive. "I love the mural,"  Carli Torres said. "I like the old news stories and how they show a movement from the past into the future. I like seeing the names of people I knew or past events that have happened at Alta."
The mural also pictures the Wasatch mountains in the background, showing the unique place Alta has been built.
"I remember senior year, walking past the construction every single day," Hayes said. "And now that the commons is done, its cool to be able to see the mountains from them!"
"This mural is another reminder of the excellence we have achieved as a school," Thayne said. "It reminds to live up to our role as hawks and soar!