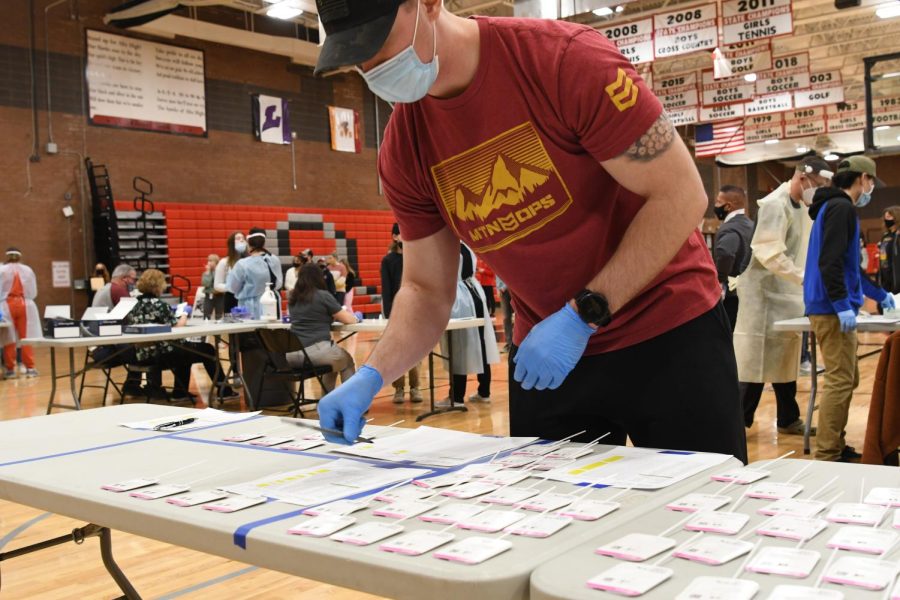 After a Five Day Quarantine, Students Return to School
Alta High School's first test to stay of this school year took place last week, and if anything, it proved how contagious the new strands of COVID-19 are.
The school became eligible to perform a "test to stay" after the school reached the threshold of two percent (46 students for Alta) of the student population being infected with COVID-19. This "test to stay" resulted in 211 positive cases of the 1400 (about 15%) students who tested during Thursday's event.
After a four day weekend and a virtual school day on the following Tuesday, students and staff are back after a five day recovery period, enough to complete the five day CDC required quarantine. But now that students are back the question remains, what more can they do to prevent a future "test to stay" and high COVID numbers?
Administrator Shelly Karren hopes that students will follow local directives to keep the school safe in the Omicron COVID phase. Students are encouraged to wear masks in class to prevent virus transmission.
"I want students to make an informed decision to protect themselves and others so we can continue to be in school," Karren said. "Wearing a mask is a choice and I hope students do what they can to stay in school."
As required by the Salt Lake County Health Department, face masks are required in public schools for 30 days starting Saturday, January 8. Currently, at the time this article was published, this requirement will last through February 7. However, as many Alta students and staff have noticed by now, Alta students haven't been doing so well wearing masks.
Jane Wetzel was one of the 1400 students who participated in last Thursday's Test to Stay. "I participated because the school asked us to and I was honestly kind of curious as to whether or not I had COVID because of how contagious the new variant is," Wetzel said. "I always make sure to wear a mask, but it did make me a little nervous because I know that there are lots of people that would come to school with coronavirus and without masks, despite the school mandating masks."
"I feel a lot safer now knowing people have quarantined and everyone who tested positive doesn't have it anymore," junior Eabha Heneghan said. "But still, it seems that about half of the students are wearing masks and we'll be back to doing 'test to stay' in no time. Or maybe we will begin doing virtual schooling."
According to a letter sent out by Utah Governor Spencer Cox, "Utah Code requires schools to offer in-person instruction at least four days per week. In effect, this means that if a school has provided in-person instruction Monday through today this week, the school has met the statutory requirement and is free to offer remote learning on Friday." At the moment, all that Alta and Canyons District can do is allow for a "virtual Friday" every so often, but for the sake of limiting COVID exposures, new virtual Fridays are now posted. The following school days will be virtual: January 28, February 4, February 11, March 25, and April 22.
"Personally, I just think that Alta should be more strict about masks," Wetzel said. "We know that they help to slow the spread, but there's not a whole lot we can do. I just wish people cared more about the health of their peers and would wear masks.
"Even if people don't think they work, it's such a simple thing and has such a big impact, and sometimes we have to do things we don't like. We all have to make sacrifices with COVID, some of us lose family, some of us have to wear masks. I just think that we need to be more considerate of others."
Everyone wants the pandemic to end, but what does it take to end it? The vaccine, wearing masks, and getting tested when you begin to show COVID symptoms or are exposed to COVID are great ways to work towards the end of the pandemic.
But in order for it to be effective, everyone needs to put in an effort, Wetzel added. When the pandemic is over we can finally resume our normal lives and stop worrying about when our next lockdown will be. Students and teachers hope we can finally start focusing on what we took for granted pre-pandemic.