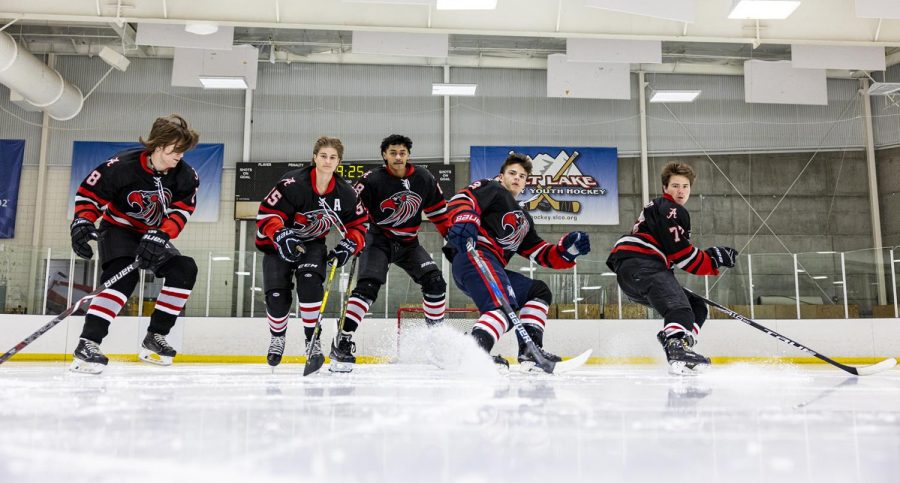 Alta Hawks Hockey Team Reaches 8th in Division
The Alta high school hockey team has had an action-filled season. The hockey team gave it their all these past few months and achieved one of their best records yet.
Under the guidance of Coach Craig Woolston, the 18 young Hockey players fought their way to victory and reached a win percentage of over 66 percent. With 15 games consisting of 9 victories, 4 losses, and 2 ties under their belt, the Alta hockey team shot up to 8th on the division standings.
This impressive feat could not have been possible without the excellent chemistry of the teammates and the friendly environment. "I think everyone really gets along very well. We try to be including with everyone," says Maddox Ochoa, player #0 on the hockey team that plays forward and defense. "Overall it's a fun environment."
Maddox gives us a little insight into the environment of the team. "They're jerks but I love them to death." The Alta hockey team seems just like a close-knit family. However, like all families, they face a few problems. "I feel like we're always missing a lot of our players… some are just not giving 100% of their effort for the team." Despite these issues, though, the team has still been very successful on the ice and the school is looking forward to even more amazing achievements to come.
The 2021-2022 hockey season ends in March. As teams all around Utah prepare for their final games, Ochoa gives some advice for young people that are interested in getting into hockey. "Honestly, just do it. There's really nothing that you can't learn if you put in the effort." For Alta high school students interested in joining our hockey team, "It's really fun, the games are a blast."