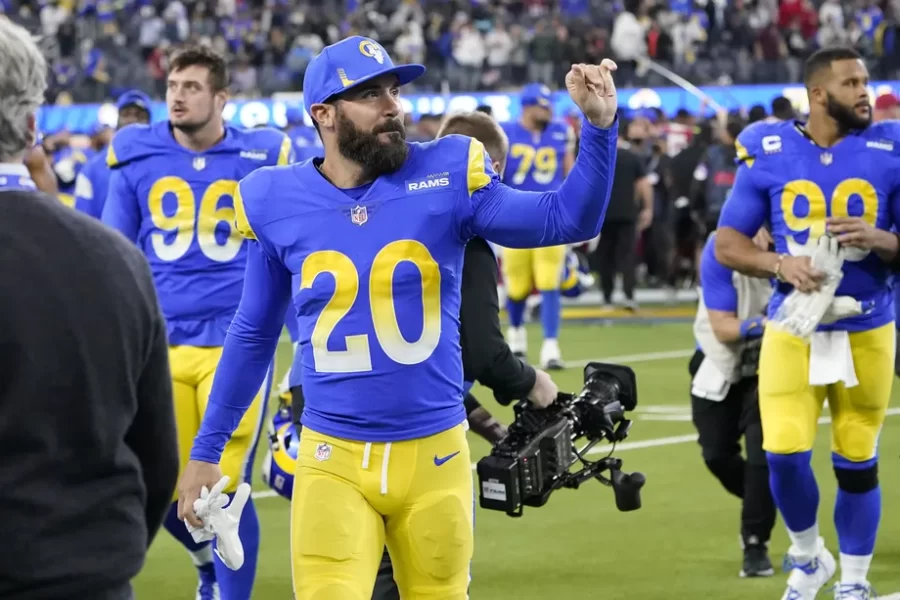 Marcio Jose Sanchez, Associated Press
Former University of Utah Player Comes Out of Retirement To Win Super Bowl
A little over a month ago, Eric Weddle was happily retired. Fast forward, now he is a Super Bowl LVI champion.
Weddle had a successful career with the San Diego Chargers and Baltimore Ravens between 2007 and 2018 before playing his final season and retiring with the Los Angeles Rams, stating that he had a "great run" in the NFL. His great run consisted of six Pro Bowl appearances and now a Super Bowl win, but how did he get there?
On January 12, 2022, Rams safety, Jordan Fuller was ruled out with an ankle injury and Taylor Rapp entered concussion protocol. With no other options, the LA Rams called Eric Weddle to come out of retirement to play with them in the postseason and help them get to the Super Bowl.
Eric Weddle was thrilled at the prospect of playing with the Rams in the post season, stating, "This is an opportunity of a lifetime, a second chance at your dream."
Before Weddle's incredible NFL career, he played under head coach Urban Meyer at the University of Utah. Prior to his Super Bowl appearance on Sunday, he recalled just how much Kyle Whittingham (Utah's defensive coordinator at the time) fought for him.
Eric Weddle explained that, "Meyer didn't really want to give me a scholarship at the time — and coach Whitt went to bat for me and believed in me and envisioned me as somewhere on the defense and had a plan for me."
On the field, the University of Utah is known for their pro-style defense and the way that they teach their players translates into their careers. Weddle went on to talk about how much the University of Utah football program helped to prepare him on and off of the field. He described the league as being a dog-eat-dog world where nothing is handed to the players. Everyone has to go out there and fight to achieve what they want to.
When describing his time at Utah, Weddle explained, "The coaching, the culture there, having to work, having to compete. Nothing was given at our school, it doesn't matter if you're a freshman All-American, like I was my freshman year, I still had to go earn that next year, earn my starting spot."