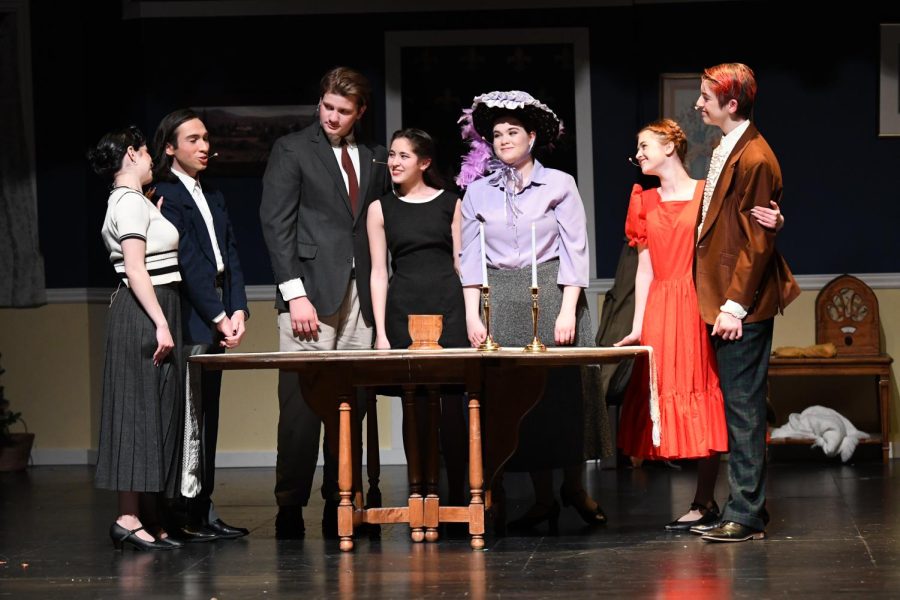 Alta Spring Play: An Enjoyable Dramedy for Audience to Experience
Alta High School's Spring Play is here! The play, The Last Night of Ballyhoo, is a comedy drama, about  A Jewish family in Atlanta, Georgia in the 4o's who are excited for a big event called Ballyhoo! The two girls in the family specifically are trying to find dates for this extravagant event, but many twists and turns make for a humorous, romantic and dramatic story for viewers to enjoy. 
The play has two different casts, the "Brooklyn" cast who performs on the 16th and 18th, and the "Atlanta" cast performing on the 17th and 19th, each with only 7 cast members! With a cast of only 14 people total, their work has definitely intensified the quality of their performance. With every cast member playing a main role, it's made it all the more exciting for everyone to look forward to.
The cast has enjoyed rehearsals for the play, and had difficulty managing their composure because of how humorous it is. "This play is super funny, it's very hard not to break character," says Audrey Wilson, who is playing Reba in the Brooklyn cast. "Everyone in the cast is hilarious and all the characters are bigger than life."
Tiana Keetch, a Senior at Alta High School is anticipating to watch the performance. "I am really looking forward to this play. It seems a bit on the sweet side and a little bit chaotic," she explained. "I'm curious how everyone will play their roles, and how the story really unfurls." Many others are patiently awaiting the wonderful performance Of Alta's students.
The cast has concentrated and worked hard on their preparations, for months. "It was hard to try and memorize lines over Christmas break, that was brutal," Audrey confessed humorously. Now the cast is awaiting to show their extensive hard work for the next four nights!
Be sure to snatch a ticket of The Last Night of Ballyhoo, showing the 16th through the 18th. Tickets online at https://tickets.shovation.com are $9 per ticket, and tickets at the door are $10 per ticket.