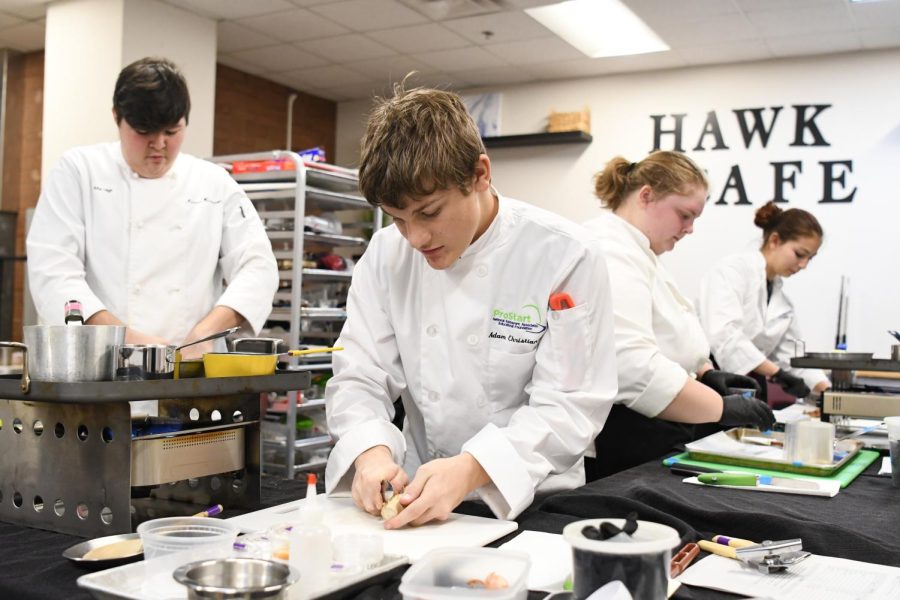 ProStart: Cooking Their Way To Success
Adam Christiansen knows what its like to be under pressure and work for long hard hours on food in order to succeed in a culinary career.
Adam Knows what its like to put a lot of effort into a dish just for it to be very mediocre. When this happens, he is reassured by how relaxing and fun it is to work with the people around him and just have a good time in ProStart
Prostart is an advanced cooking class that students can take at Alta that teaches you more and lets students experience more in the culinary field. In Adam´s words the students who participate are "the best". There are many people inside of the Prostart class that are very talented.
Knowing that there are an abundance of talented people in the class may be intimidating, but Adam aims to reassure those who are worried by saying, "[The class] is a good time, and a very chill environment." So whats not to like?
There are also many challenges in being in a more advanced and faster paced cooking class. Adam says the hardest part is the "Serve Safe Manager Test". This is the entry test that students that attend the class have to take to get into the class. If the students pass it, they get a certificate that offers them a raise at a fast food restaurant job.
There are multiple opinions on what the most difficult part of the class is. According to Ms. Yeates, the hardest part of the class is  the "time and commitment." She goes on to say that they practice twice a week after school for at least 10 hours a week.
Just like most other teachers, Ms. Yeates wants her students to take away or learn something from her class to put to good use in the real world. She explains, "My wish for my ProStart students is that they become confident cooks and discover a passion for food." Cooking is one of Ms. Yeates favorite things to do. She loves to share and pass that joy to her students.
Of course like other classes, students will debate the application of this class to the real world, and this class actually is one of the more useful classes taught at Alta.
According to Yeates, "ProStart helps students prepare for jobs in the culinary arts field through college credit, fun field trips, and competitions"! Not only is this class very useful for students in Yeates's words, but there are many different activities offered when attending the class.
After reading this article, students may want to add the class to their schedule. There may, however, be some hesitation due to fear. "My advice for anyone interested in being pat of ProStart is to take the leap and join ProStart! The class is always a smaller group of students who become best friends throughout the year", Yeates said. The class and the classmates are very friendly and students will learn so many skills they can use for the rest of their lives.