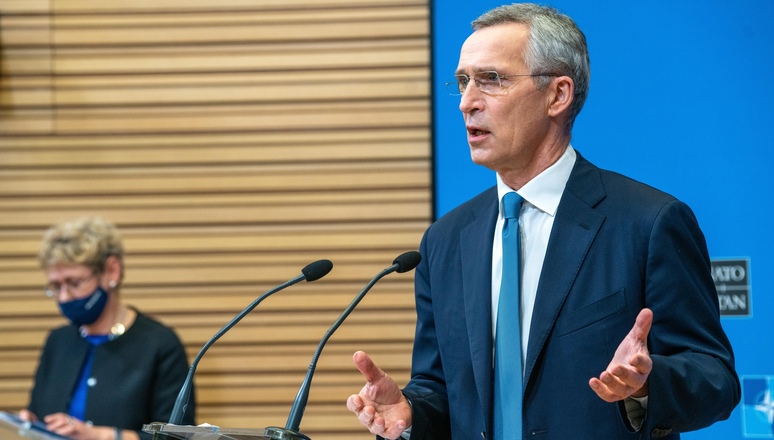 What NATO is doing in response to the invasion of Ukraine
NATO Secretary-General Jens Stoltenberg said Russia's acts were "A brutal act of war" and they would defend "every inch" of NATO's territory should Russia attack a member country. "We do not have any plans [to deploy] NATO troops to Ukraine," Stoltenberg said at a press briefing on Feb. 24. "We have already increased and we are increasing the presence of NATO troops in the eastern part of the alliance on NATO territory".
"If [Russian President Vladimir Putin] did move into NATO countries, we will be involved," Biden stated Thursday afternoon. As Russian troops advance, NATO announced ,for the first time in history, it would deploy parts of its combat-ready response force and continue to send weapons to Ukraine, including air defense.
In 2008 NATO stated that if Ukraine met a series of criteria they could join NATO, such as the alliance's standards for governance and transparency. Joining NATO became a top priority for Ukraine so they could get protection from Russia. Ukraine's ambassador to Britain told BBC that the nation's ambition to join NATO was met with threats and blackmail by the Russian Government.
Although experts say an attack on NATO countries is currently unlikely, several member nations have called for security consultations to be held under Article 4 of the NATO treaty. Article 4 states that countries "will consult together whenever, in the opinion of any of them, the territorial integrity, political independence or security of any of the Parties is threatened."
Article 5, which outlines the alliance's declaration that an attack against one member nation is considered an attack against all. Invoking Article 5 would mean all NATO countries vow to come together if one member is attacked. ¨We will continue to do whatever is necessary to shield the alliance from aggression," Stoltenberg said. "Our collective defense commitment [under] Article 5 is ironclad."
In essence, Russia believes NATO's primary aim is to make Russia weaker. It views any expansion of NATO as a direct threat to its own interests, and Ukrainian membership would likely mean that the country is brought further from Russia's sphere of influence. Putin claimed in 2005 that the "collapse of the Soviet Union was the major geopolitical disaster of the century.¨
From what America has heard we are not in any sort of danger. NATO still refuses to send troops but is sending ammunition and weaponry. Over the next few days,  months, and possibly even years we will see how this progresses. Hopefully Ukraine and it's people will be safe soon.