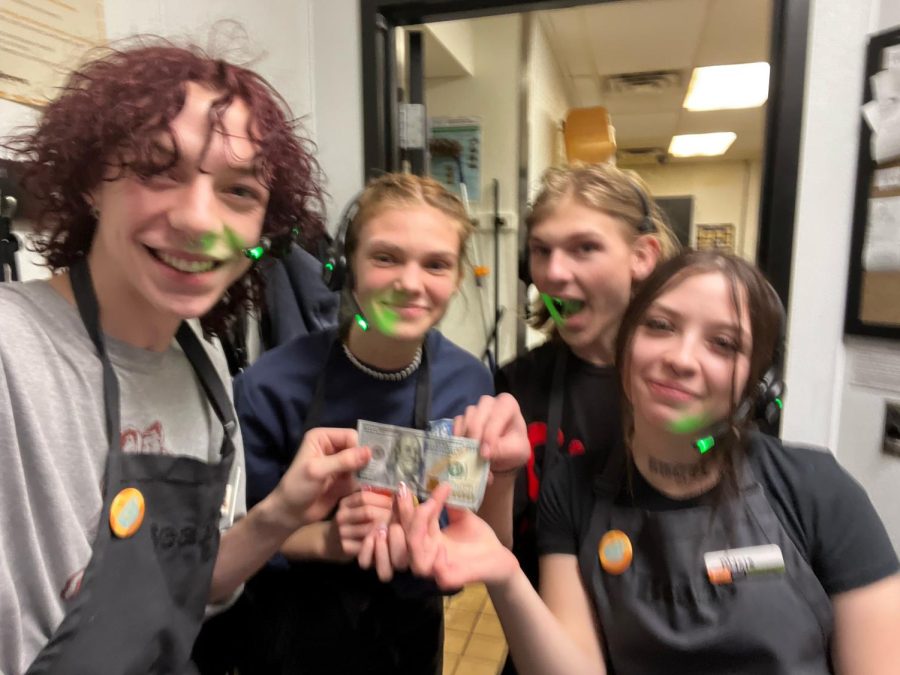 Students Juggle School and Work to Earn Extra Cash
60% of Alta students have some kind of after school job according to a recent lunch time poll. Managing both school and a job requires organization and deliberate planning time for homework and studying.
For Arabella Matthews, juggling a part-time job and school can be exhausting. Arabella works four shifts a week at JC Penny at SouthTowne Mall usually from 3-9. She often gets home around 10 and is too tired to do homework.
Arabella is not alone. A recent lunchtime poll revealed 60 percent of students have an after-school job. Juggling work and school are stressful, but many pull it off with finesse. Students learn many things from outside work including how to work in a group, make a deadline, show up on time, and more. 
Matthews works with a team of people and the general public. "It is stressful," she said. "I learn a lot about working with others.."
Brynnlee Smith agrees that having a job really is a learning experience. As a freshman who is still adjusting to high school, she's finding herself struggling with balancing school, work, and social life.
However, Smith tries her best to complete all of her homework. "I try to finish my school work before I attend work, but also have time on Sunday to get it done." 
"
I like to work with kids, I love teaching kids how to ski. This is a perfect job for me."
— Sami Gibson
While jobs teach students a lot about work and dealing with others, a student's first job is attending school and getting an education. School Counselor, Christine Astle said, "School is the most important job right now," she said. "It should always be your top priority." 
Before you get that first job, you need to make sure you can be successful. Ask yourself, "Am I ready to have a job and how will it affect my overall school performance."
Most students stress over maintaining their grades if they have a job. Sometimes, asking yourself questions can help you figure out if are prepared to have a job. You can ask yourself, "Am I gonna find myself falling behind in classes?, "What type of job will work best with my schedule, skills, and personality?," "Will my parents be okay if I get this job?"
Asking yourself these questions, will help you understand if you are prepared to manage work and your schoolwork. 
Alta students work at many different jobs: Sweepers, Drink makers (Swig, Starbucks, ect.), Walmart, Scheels, Crumbl and more!
"
I work with my friends at an elementary school which is fun to do but, I take out the trash, and clean which is not so fun."
— Molly A.
Sometimes, work can be overwhelming and stressful. Brad Green works 3-5 days a week but it's still so overwhelming." He adds "I feel dead by the time I get home from work, that I have no time for the loads of homework I have." 
While jobs provide great opportunities to work with the public and learn valuable skills, if it becomes too much, something has to give. 
When managing school activities and homework becomes too overwhelming, counselors and teachers think students should decrease the number of hours they work. In the long run, completing high school and getting an education will really matter.