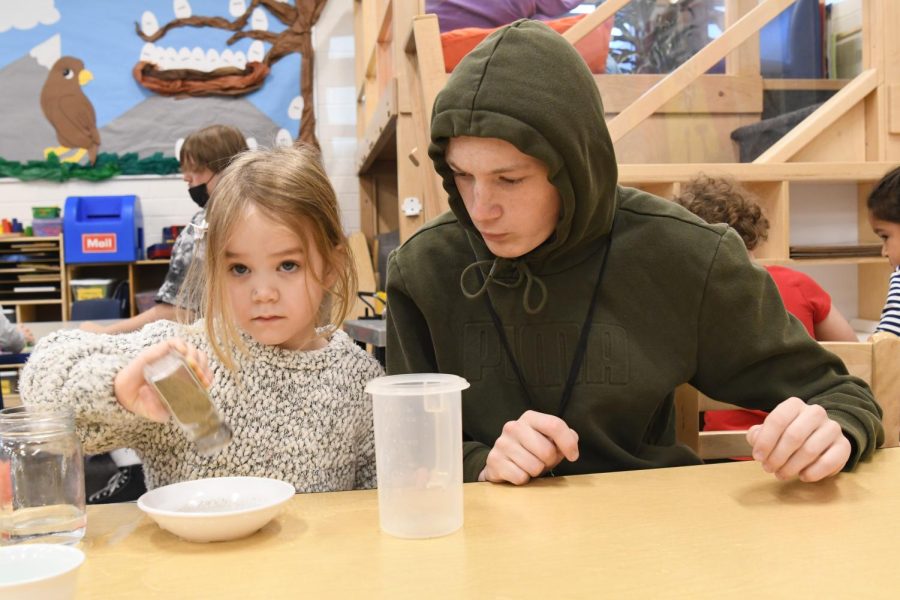 Alta Mini Hawk Early Childhood Education Class Prepares Students for Their Futures
If you enjoy teaching and taking care of kids, Alta Hawks preschool might be the place for you. Preschool is a great opportunity for high school students to have more exposure to younger kids and learn valuable experiences. Early childhood education teaches you how to lead and teach lessons, help you know how to deal with kids emotions, use and develop creativity, understand kids and how they're thinking, and be developmentally aware of where they are.
"The preschoolers are gaining excellent social exposure while learning through play." Mrs. Summerhays has explained.
The preschool class is a two period class for juniors and seniors, that gives 2 credits as well as the opportunity to earn your CDA (Child Development Associates) to be certified for jobs right out of high school. A prerequisite for participation is taking the child development class, offered by Mrs. Summerhays here at Alta.
 Senior Sophie Duncan loves "meeting and talking to all my new friends in class and playing with the kids! It really is just the funnest class and doesn't even feel like I'm at school ."
If you're not sure if you should take preschool, Avery Hancock says students "should take preschool because the kids are cute, and its a great learning experience. It's an easy class, a fun class; it has field trips, special guests, and fun activities all in one."
Some people in the class this year have said that they've made a lot of friends, gained confidence, learned how to plan, manage time, and stepped out of their comfort zone.
Overall Preschool is a great class to take if you are looking to learn time management, have a job dealing with kids, and get prepared for your future.