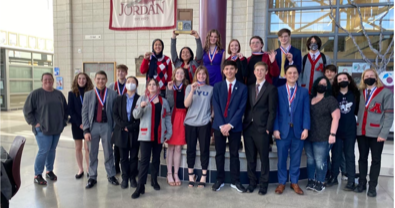 Debate Team Wins Region Fourth Year in a Row!
The debate team did it again! Alta's debate and speech took first place in region this year, their fourth fourth consecutive year winning at Region. 23 Alta students placed while competing in this years debate and speech region. 
Participant, Abby Hansen, a senior, tied for first in the impromptu. Hansen described region, "We are given three topics and then we have seven minutes to prepare a speech and give a speech." Stating that she has two minutes to prepare and five minutes to give the speech. 
Hansen said that she tried speech for the first time last year and was surprisingly good at it. She also explained she feels really good about her speech and is proud of her win. 
Hansen also mentioned that they've swept since her freshman year and are the "reigning region champs" and it was expected for the entire team to do well. Their team is very close together and have a strong bond.
Debate coach, Dr. Schoepf, said their biggest strength was not only their incredible intelligence and work ethic, but their ability to work as a team."
Schoepf also mentioned the teams strong comraderie. "They helped one another to improve, and that built up on our team to an unstoppable fourth consecutive Region title." Schoepf is incredibly proud of her team and their hard work. 
Merrin Maughan earned first in the category informative about the history of the barbie doll and became one of the most memorable speeches all together. It was such an impressive speech that Maughan is planning on going to nationals with her speech. It'll be exciting to see how she'll do when nationals comes around. 
The team got 6th out of 20 schools in state.
The following students made it to nationals: Merrin Maughan, Abby Hansen, Jaxson Baker, Mariam Safeudien, Alex Brown, Simone Wiatrak, Austin Woodley, and James Numbers. In addition, Merrin Maughan also won Sundance District's Student of the Year.