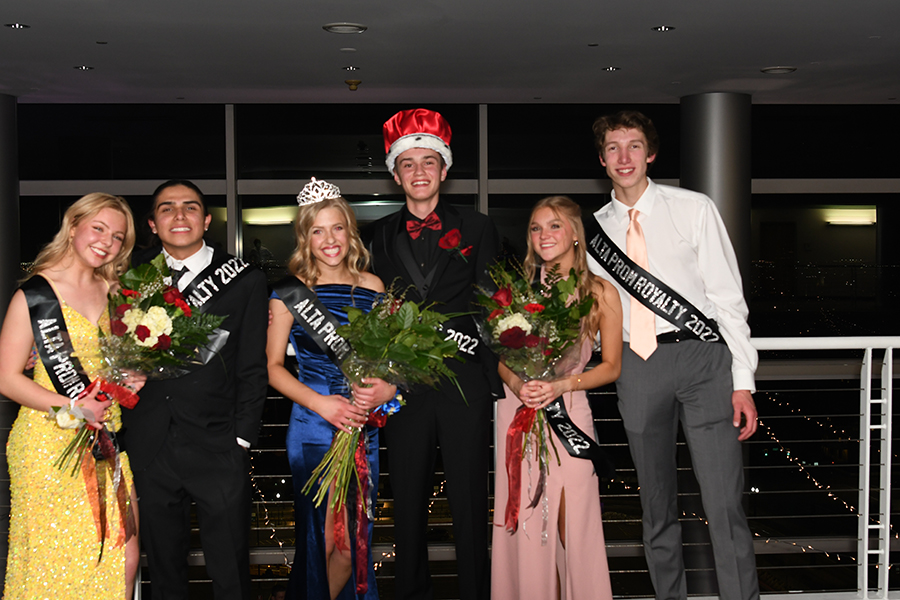 Junior Prom One for the Memory Books
Cali Jeppson and Leroy Barlow were crowned this year's Prom King and Queen.
Saturday's "Fly High" Junior Prom at the Rice Eccles Stadium Sky Box was a memorable night for many reasons. Everything from a broken down elevator to exciting prom royalty made the event one for the memory books.
The nominees for Prom king and queen were: Cali Jeppson, Leroy Barlow, Lucy Peifer, Logan Despain, Breya Fabrizio, and Jack Brinkman;  Cali Jeppson and Leroy Barlow were crowned Prom King and Queen with Lucy Pfeifer and Logan Despain as first attendants, and Breya Fabrizio and Jack Brinkman as second attendants.
Jeppson appreciated "that people had voted and cheered" when she had won.
Leroy was surprised when he won stating he didn't hear the announcer say his name. "I thought Logan had won until they started putting [the sash] on me," he said. "I was surprised and happy to have been nominated."
The energy at the Prom was palpable, so much so that when the crowd chanted "kiss, kiss, kiss, kiss" non stop, Logan Despain grabbed Lucy and planted one right on her lips. "It was insane and I had so much adrenaline in my body," Peifer said. "It was really fun and the kiss was just one for the books."
The energy even continued after the prom ended. One of the elevators carrying students to the ground floor stopped between floors 2 and 3, necessitating a call to the fire department to free the trapped students.
"They were in there a good 45 minutes," said Assistant Principal Shelly Karren. "I was relieved when they were finally freed from the elevator."