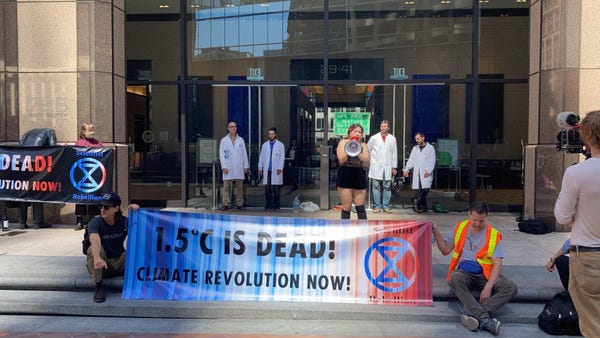 Scientists Around the World Protest
Wednesday, April 6, 2022, four of NASA's top scientists chained themselves to the JPMorgan Chase building to protest about the high levels of climate change that are going to affect the entire world. While over 1,000 other scientists from 6 different countries risked arrest to speak about this topic. They chained themselves to the doors of oil-friendly banks, blocked roadways, and occupied government buildings.
The JPMorgan Chase bank during 2020 spent $51.3 billion on financing fossil fuels and from 2016 to 2020 spent $317 billion. Peter Kalmus gave an emotional speech about this topic. "This is for all of the kids of the world, all of the young people, all of the future people. This is so much bigger than any of us. We're going to lose everything and we're not joking, we're not lying, we're not exaggerating. I am here because scientists are not being listened to. I am willing to take a risk for this gorgeous planet and my sons."
Kalmus' voice started to break. "And we have been trying to warn you guys for so many decades that we are heading towards a catastrophe and we've been ignored. The scientists of the world are being ignored and it's got to stop. If everyone could see what I see coming, society would switch into climate emergency mode and end fossil fuel in just a few years."
Kalmus is a climate scientist who works at Nasa's Jet propulsion Laboratory in California. He is the co-founder of the climate ad project, along with Earth Heros, an app that brings activists together to fight against climate change. He also wrote a book in 2017 called Being the Change: Live well and Spark a Climate Revolution. He explained that these fossil fuels will push the climate over twice the amount the already high amount it is. This will cause more intense heat, fires, storms, flooding, and droughts.
Kalmus and the three other scientists were arrested at the event and tweeted that most of the other scientists who protested were also taken to jail. He was later released from jail and has been furiously tweeting about the topic ever since. He says in one post "Shouldn't over 1,000 scientists risking arrest to save the planet be a bigger news story than Elon Musk trying to buy Twitter?"
He has many other posts about these events. Climate change is becoming a bigger problem than it ever was, Ashley Renne Nsonwu and Peter Kalmus' instagram has some tips to help this problem and to help our planet.