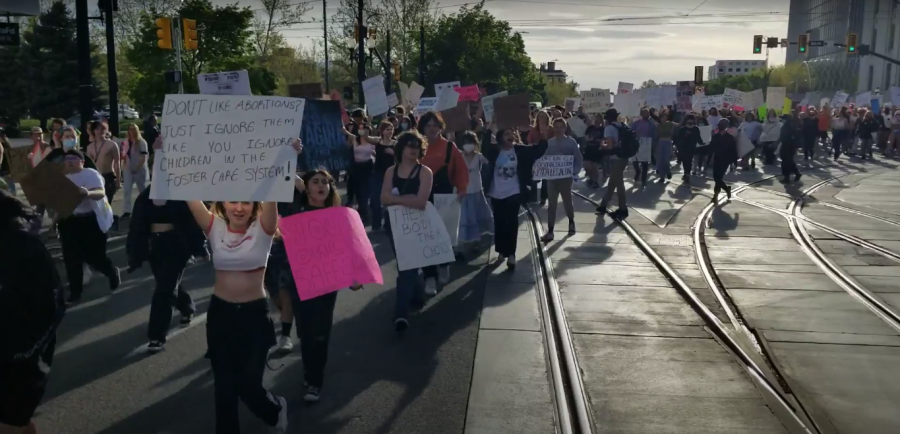 Tanner (Hsuan-Jung) Lee - Alta Hawkeye
1,500 Protesters, Including 40 Alta Students, March on Capitol to Protest Supreme Court Decision
Dozens of Alta students, along with 1,500 young protesters, descended on the capitol to protest against Roe v. Wade on May 4th, 2022
Around 1,500 Utahns protested in front of the State Capitol in Salt Lake City on Thursday, May 4th, 2022. An estimated 30 to 40 of these protesters were students from Alta High School. The event shattered records set by other massive protests in recent years, surpassing even the largest Utah George Floyd protest of 2020 in numbers.
The protest, which lasted for almost five hours, consisted of mostly younger participants. Many of them were high school students from around the state. Students from Olympus, West, and many other high schools in the SLC School District attended in large numbers. In Canyons School District, protesters from all six high schools were reported to be present, with especially large numbers from Jordan, Brighton, and with the most students, Alta High School.
This protest was organized to fight against the leaked Supreme Court opinion written by Justice Samuel Alito. The document was first revealed by POLITICO on Monday, May 2nd, and showed that the Court is set to overturn Roe v. Wade. A protest for the same cause was organized at the Utah Capitol on Tuesday, organized by Planned Parenthood and PSL, the Party for Socialism and Liberation, which garnered around 1,000 people.
Red Hive Collective (RHC) was one of the many organizations involved in planning and hosting the event. The lead organizer for this event was RHC member Dean, who put in all of the work to make sure the event ran smoothly. Along with Dean over a dozen other helpers from Salt Lake City Mutual Aid, Salt Lake Equal Rights Movement, SLC Armed Queers, Utah Beauty Project, Joe Hill Project, and the Industrial Workers of the World organized security, media, and planning.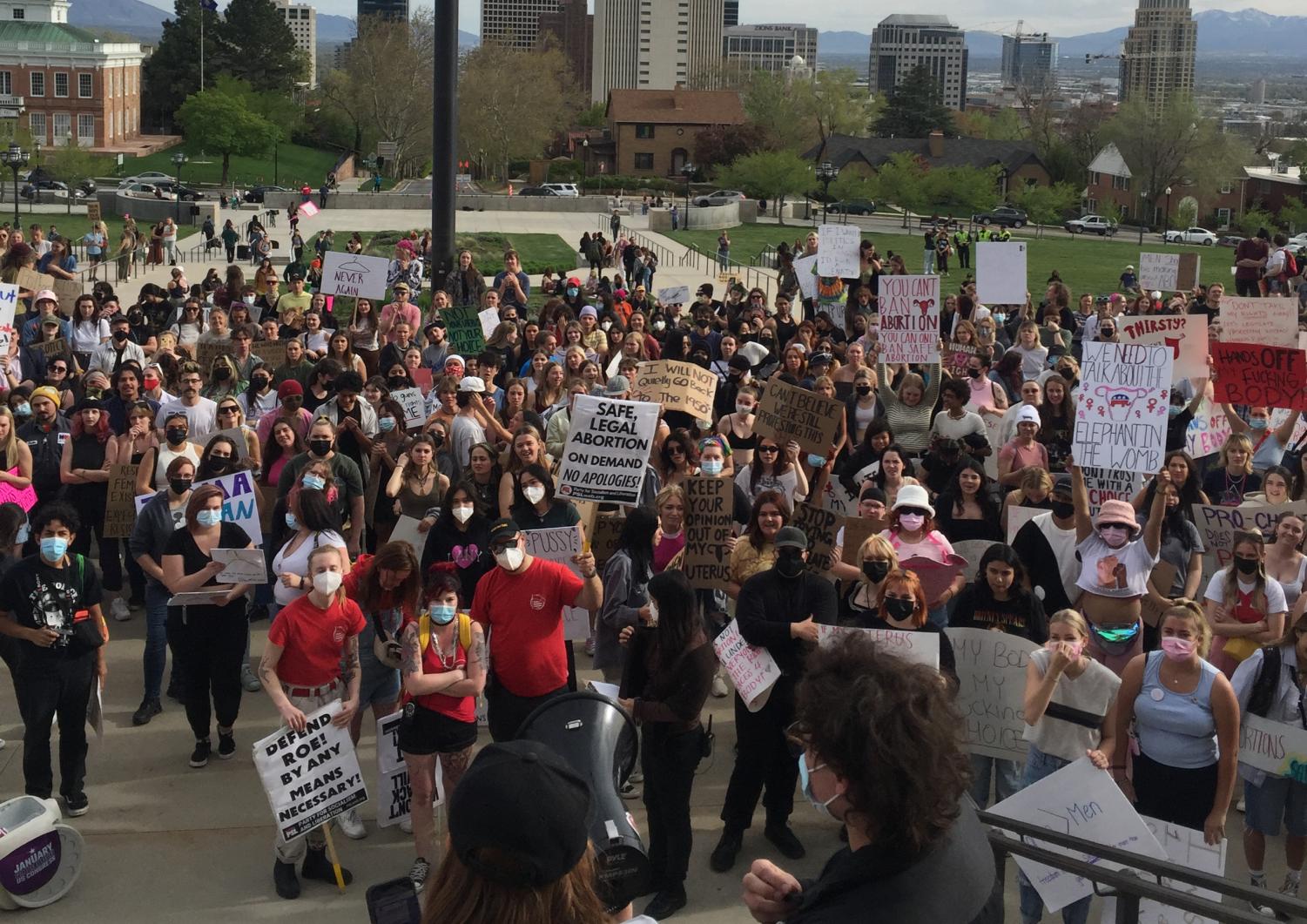 The event began with a ceremonial dance performance from indigenous artist Nizhoni, which then evolved into a chain dance with many of the protesters in attendance. At this time, there were already an estimated 400 people present.
"I didn't fully understand what I was getting myself into, it was my first protest. However, once the dance started, my doubts disappeared," an Alta protester said, "I knew then that this [would] be something special. My friends and I stuck around for hours until the very end, and I don't regret [it] one bit."
Speakers then took the stage one by one. In total, around nine spoke, with the last one garnering the loudest roars of approval from the crowd, which numbered over 1,200 at this point. The last speaker was Devin Johnson Kramer, the founder of the Utah Beauty Project.
At the climax of her speech in front of the Capitol, Kramer says, "It is our generation's turn to change the world. We owe it to the women and people that have suffered, and have continued to suffer, to take a stand, and say enough is enough! I want to thank the generations before us, who paved the way to get us here…We owe it to our mothers, and our grandmothers, to continue this fight of liberation! We owe it to the LGBTQ community! We owe it to the black and brown community! We owe it to the indigenous community!"
"I am calling for every millenial and gen z to stand up for the future of their careers and their families! It's our turn to fight, baby!" Kramer continues, to the thunderous applause and cheers of the crowd, "They have no idea how educated we are…And guess what? We have a whole lifetime to go!"
As one contributor sang about her experiences of sexual assault for the very first time, hundreds of supporters came together in front of the stairs of the Capitol for a massive group hug to comfort a few protesters overwhelmed with emotion. The activity, captured by Red Hive Collective and sent to the Alta Hawkeye, showed a moment of vulnerability and solidarity among the protesters.
One teary-eyed Alta protester that has chosen to remain anonymous said in a statement to the Alta Hawkeye, "A few seconds into the hug, and I'm already stunned by what I was seeing. I've never seen anything like that before…I can't describe [how] I'm feeling other than it's like a form of bitter happiness."
"That was one of the most beautiful moments I've ever had the chance [to] participate in," said another anonymous Alta student, "…I got emotional, but I think everyone did."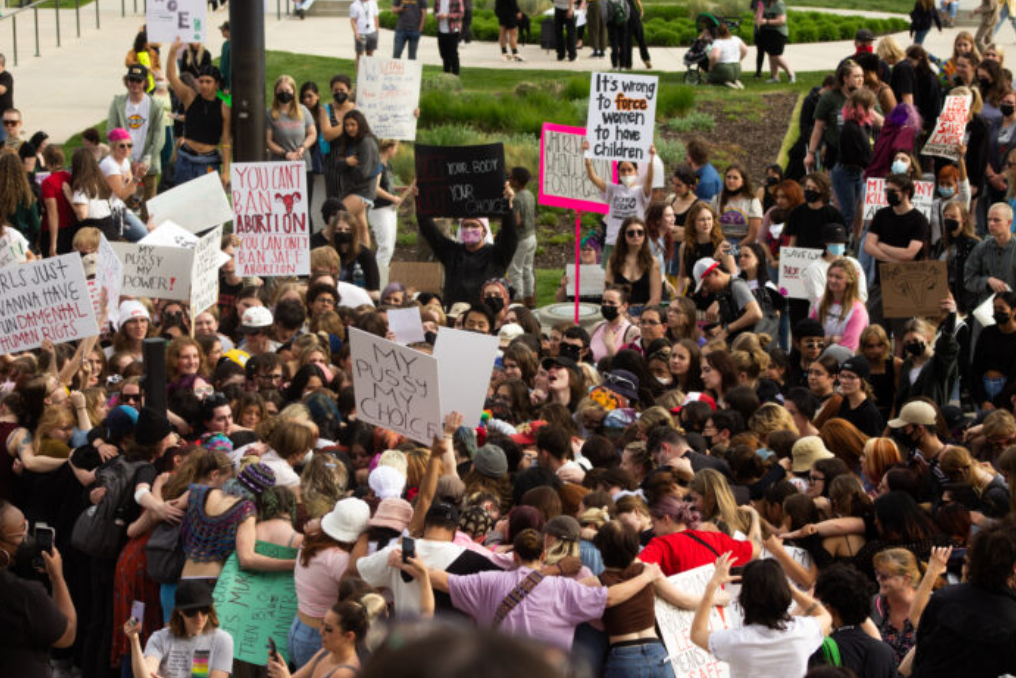 Organizers and members of PSL first led the chants at the capitol as around 1,500 people made their way towards Washington Square. At its largest, the march to Washington Square stretched three whole city blocks. Many cars, including a TRAX operator, honked to signal support and were met with ecstatic cheers from the protesters.
The protest eventually dissipated after a few speeches and dances at Washington Square and a march back to Capitol Hill. During the entire organized event, there was no reported violence, though eight counter-protesters, including a conservative influencer and one with a gun, showed up. Those counter-protesters left when the march began.
A community artist and supporting organizer for the event, Alta senior Zoey Landsaw, said of it, "My favorite part was marching to Washington Square. I felt so powerful, being able to chant and march and to really see and hear the pedestrians cheering us on. We stopped traffic! That kind of thing is amazing."
With one of the largest turnouts in Utah history, the event was a massive success. "The protest was life-changing," says Zoey, "It provided a whole new outlook on my community and how legislation and laws really affect my peers and me personally."
The protest garnered attention all around Utah. The Salt Lake Tribune picked up the story, as well as the BYU newspaper, The Daily Universe. Reporters and other members of the press were also present at the event, including one from ABC4.
One of the speakers at the rally, a Red Hive Collective member, Magnolia, said to The Daily Universe, "I would like to believe that I'm genuinely pro-life because I care about all of these issues that happen after a baby is born, unlike the senators and representatives and Supreme Court justices who say they are 'pro-life' but only as long as it is a clump of cells in the womb."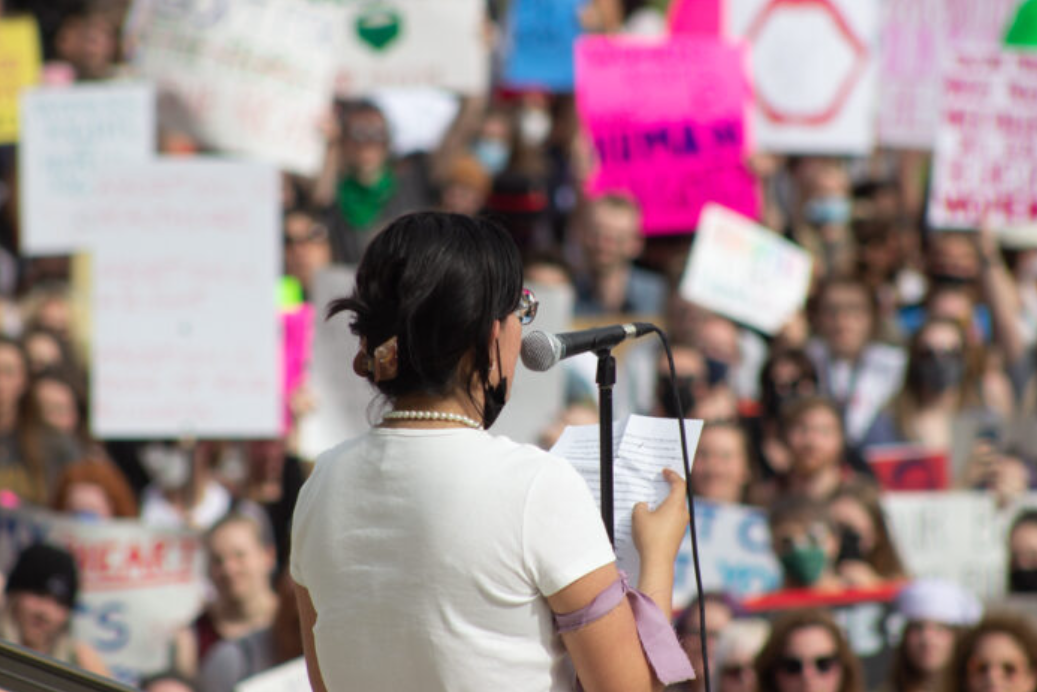 Utah is one of the thirteen states that have a trigger law for abortion in the books. This trigger ban would go into effect immediately once Roe v. Wade is officially overturned. It would outlaw abortion in its entirety and force those seeking the procedure to travel out of state or to attempt illegal abortions. No state has support for ending Roe v. Wade over 30%, including Utah.
Zoey Landsaw said In a statement addressing Alta students, "Protesting alongside your peers can make a whole world's difference in your life. If you haven't it's something I highly recommend…Being there with everyone made me feel the most loved and accepted I have ever felt in my entire life,"
Landsaw continues, "…It was one of the biggest protests in Utah history, that kind of thing doesn't just happen…Not only is it a liberating feeling, but it's also an amazing way to connect with your community."
Red Hive Collective, in collaboration with many other organizations, is planning more protests in the near future. Other protests are also taking place in Utah in the coming weeks.