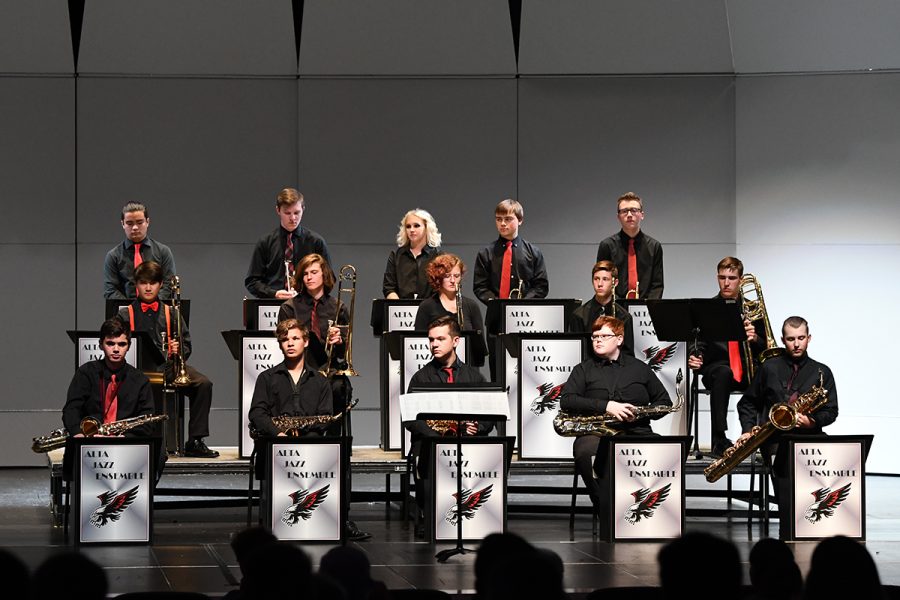 Band and Orchestra Performing Groups Earned Awards at Spring Competitions
Alta's Band and Orchestra performed well this year with numerous award-winning performances. With participation from Marching Band, Wind Symphony, Jazz Band, Color Guard, Percussion Ensemble, Drumline, and Chamber Orchestra, each group was sure to bring back awards for Alta.
Alta's Band and Orchestra teacher, Mr. Shabestari, better known as "Shabs" to his students, explains that his favorite part of working with his performing arts students is "their passion for not settling for anything but their best. Working with my students is my therapy. When I get to see them enjoying themselves in Band or Orchestra, it makes my heart happy"
Shabestari later goes on to say that the secret for their success is passion, which is very apparent in each and every of his students.
"It takes Color Guard hours of training to get the strength and technique to make the work clean and look good," explains color guard performer, Anna Hicken. "The hornline and Drum line spend hours working on marching technique and visuals. So I definitely agree that passion is key to success. There is a huge difference between the kids who want to be there and put a lot of effort into being the best they can be and those who don't."
Though hours of work goes into their competitions, practices aren't by any means boring. "Shabs makes really good music selections that makes the show so much more fun," continues Anna Hicken. "Through our practices and shows we also get really close and the show becomes a part of our lives, so even if we don't win or place in a competition every performance is worth it because we get to bond with people we like and have gotten the opportunity to become close with."
Their hard work has certainly paid off! Congratulations to Alta's Band and Orchestra on all of your hard work and achievements this year! The following are the awards and recognitions achieved by the groups within Band and Orchestra:
Marching Band – 3rd Place Bands of America Regional
Marching Band – 3rd Place Wasatch Front Invitational
Marching Band – 3rd Place Oquirrh Mountain Band Invitational
Wind Symphony – Straight Superior Ratings @ Region
Wind Symphony – 2nd Place – Anaheim, CA Festival
Jazz Band – 2nd Place – Anaheim, CA Festival
Color Guard – 3rd Place – Utah Color Guard Westlake Competition
Percussion Ensemble – 2nd Place – Anaheim, CA Festival
Drumline – 3rd Place – Intermountain Percussion Davis Competition
Chamber Orchestra – Straight Superior Ratings @ Region
Chamber Orchestra – 1st place Sweepstakes – Anaheim, CA Festival