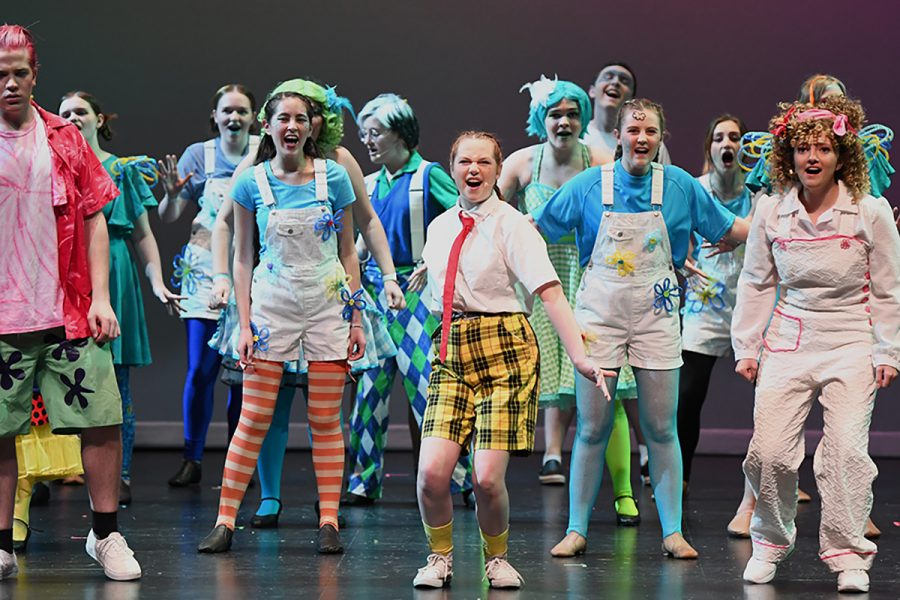 Alta Theatre Earns Copious Awards For Their Performances This Year
Alta's Theatre worked hard and performed well this year with spectacular performances and numerous awards and nominations. This year's school musical, "SpongeBob the Musical", played an instrumental role in their awards this year.
"I think a big part of the success of the musical is all the support we get from family and friends–without them we wouldn't be able to perform," says the actress who took the lead role in SpongeBob the Musical this year, senior Anna Teichert. "But we're also really lucky to have a cast, crew, and orchestra full of hard-working, dedicated people. They make each show worth coming to, and put their heart into every performance."
The students in the musical don't just win awards off of minimal effort, it takes months of work to set up and preform a musical.
"We spend hours after school every day for multiple months," says senior Hannah Cardall. "We come in on Saturdays and spend our free time practicing our lines and running our dances. It is also extremely emotionally draining to be on stage for long periods of time."
This year theatre has earned a lot of awards from it's performances, one of the most recognized being the awards given to theatre's tech crew.
"This year we took first in sweepstakes at region and 5th at state," says senior and second place winner for Dramatic Monologues, Dani Gibson. "Our technicians won Best Tech at the High School Musical Theatre Awards in all of Utah for SpongeBob. At Regions, we had 9 groups or individuals place in the top three of their category while 3 groups or individuals made it to medal rounds at state. Our Shakespeare team was also pretty successful."
Congratulations to Alta Theatre for all of thier awards and hard work this year. Below are the awards won this year:
Nominations for top ten in state with the HS Musical Theatre Awards from SpongeBob the Musical:
Kenna Stevens- Best Cameo
Best Tech Crew
Best Costume Design- Irey Oviatt
Best Lighting- Tim Holt
Best student choreography – Kalaya Thomas and Sami Hamilton
Best Orchestra
Best Assistant Director- Irey Oviatt
Winners from the HS Musical Theatre Awards from SpongeBob the Musical:
Best Tech in a Musical- Tech Crew
Second in State for Set Design- Sunny Hornbaker
Region Awards:
18 individuals or groups made it to final medals rounds
25 individuals or groups made it to state
Second Place Scenic Design: Tim Holt
Third Place Scenic Design: Sunny Jensen
First Place Costume Design: Lacey Thompson
Third Place Contemporary Scenes: Landon Horrocks, Ava Staggs, and Ariana Kunzler
Third Place Humorous Monologues: Brody Gibbs
Second Place Dramatic Monologues: Dani Gibson
First Place Classical Scene: Andrew McHenry and Ruby Gardner
Outstanding Actress Award: Irey Oviatt
Third Place One-Act: Last Night of Ballyhoo
Overall Sweepstakes 15 Place Winners
State Awards:
33 students with straight superiors
4 individuals made it to medals, final round
Sunny Hornbaker won second in state for Scenic Design
And 5th overall out of 33 schools