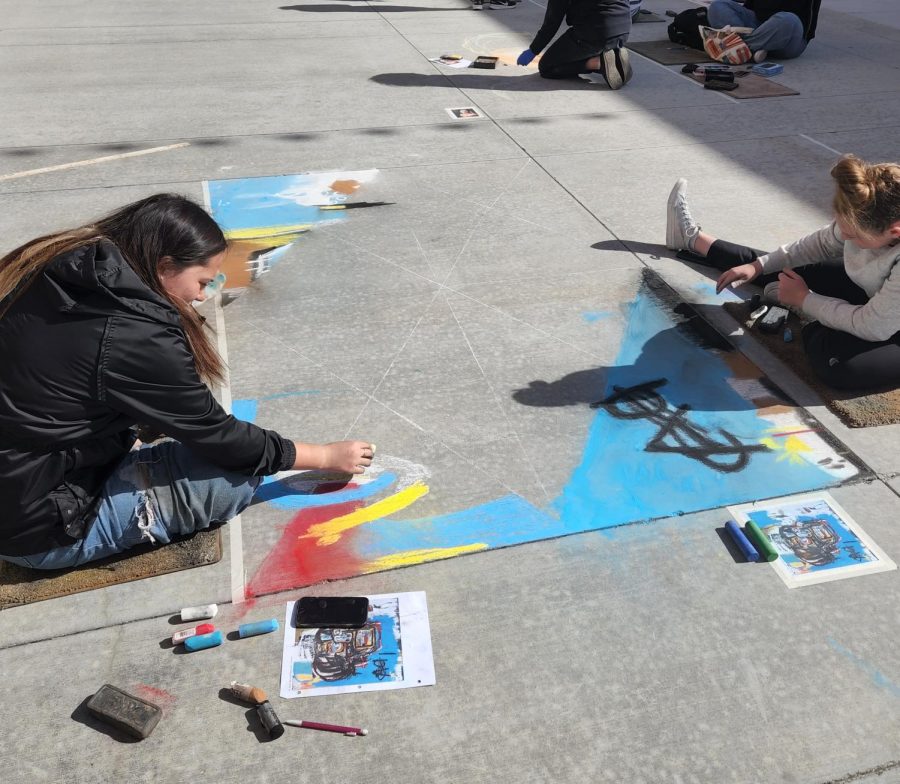 Alta continues their Tradition of Chalk the Walk
Chalk the Walk has been a fun tradition here at Alta for years, where students are excused for the day to draw an existing piece of artwork on the school sidewalks following a specific theme for four hours. It's been one that students have loved to participate in, and a unique experience for the students. This year's theme is contemporary art, so hopefully some pieces will be more recognizable to students. 
It helps students demonstrate their art abilities and enjoy their time with other students who participate, and it's all the more enjoyable as students work in pairs. One of this year's participants, Sami Gibson said she enjoys "being around the other artists and getting messy too." Most students participating have been in multiple art classes, however Chalk the Walk is open to all students at Alta high school. 
 In past years there have been a few complications. Such as in 2020 students participated from home because of the pandemic. Last year was a bit better since students were able to participate in person at school, but it unexpectedly rained, so it made things a bit more interesting. This year's Chalk the Walk just happened to be on the coldest day of the week, however it has yet to rain thankfully!
It's one of the many traditions here at Alta, and as Mrs. Crane said, "It's a celebration of our artists at the end of the year where they can come and just have fun." It's always been an impressive activity as well, since students are able to create such amazing artwork for just four hours!
Students created amazing artworks this year once again and another Alta tradition has been fulfilled! Students and teachers (especially the art teachers) seemed to enjoy their time. We look forward to and will await for next year's Chalk the Walk to return.