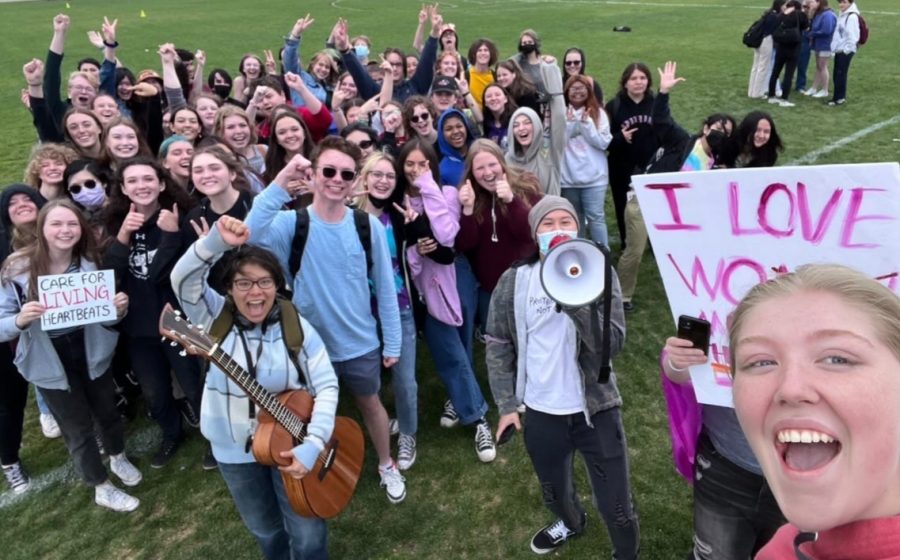 100 Alta Students Walkout to Protest for Abortion Rights
Over a hundred Alta students walked out of their classes during eighth period on May 20th, Friday. The protesters formed a large gathering on the Alta soccer field at 1:15 PM. The protest lasted a little over and ended when school was released.
The protest was organized to rally support and awareness for the fight for abortion rights. Feminist activists, spontaneous popular movements, and student-led firces have all had massive support in the last month, when a Supreme Court decision was leaked that would overturn the famous Roe v. Wade ruling, which guarantees a right to privacy and the right to abortion.
Utah is one of the key states in the fight for abortion, as it is one of the thirteen states that have trigger laws in place, SB 174, which would immediately ban most abortion procedures the moment Roe v. Wade is overturned. Because of this, pro-choice protesters all around Utah have been rallying for the past few weeks, with a massive rally that garnered over 1,500 people, including 40 Alta students, and an estimated 3,500 person protest, hosted by Planned Parenthood one week after.
Hundreds of students throughout the state also walked out in protest in recent days, including West, East, and Highland. Alta High School was no exception.
The Alta walkout was organized by junior Tanner Lee and senior Zoey Landsaw. The protest was planned a week in advance with permission from the school administration. There were also a number of planned student speakers: Savanna Burnett (in place of Zoey Landsaw), Dani Gibson, Cooper Nicholl, and Merrin Maughan. A few unscheduled impromptu speakers gave improvised speeches as well.
The protest started with the host of the event, Tanner Lee, giving an introductory speech and raising the energy of the crowd with a few powerful chants. "Roe v. Wade ending means the end of the right to privacy. It means states will have the ability to ban abortion in its entirety yet again. Thirteen states are poised to ban abortion procedures the moment Roe v. Wade is overturned. Utah is one of those states. That's why we are here. Utah can do better."
The introductory speech was met with excited applause from the audience, and cheers grew to welcome Savanna Burnett, who was giving a speech in place of Zoey Landsaw. Zoey had recently caught COVID-19, and was not able to attend the event.
"I am here for the eleven year-old girl that was forced to give birth before she can even watch a PG-13 movie," says Savanna, "I'm here for the moms that are working three jobs. I'm here for sexual assault victims that have to give birth to their rapist's child. I'm here for the thousands of missing and murdered indigenous women and children. And I'm here to make sure my children don't grow up in a world where they too have to fight for basic necessities!"
Savanna's speech was followed by another short speech by Tanner. "What we learn from our history classes is how impactful student movements have on this country…In the past, students helped give us Civil Rights legislation. Students gave us gun control. Students fought for gender equality and fought for LGBTQ rights. Students have literally helped end wars! We are not defenseless. We should not be afraid to stand up yet again for equality!"
After a few chants with the protesters, Dani Gibson took the stage. "Abortion rights are human rights! I don't want to live in a world where we and our future children have fewer rights than our mothers and grandmothers. That's not progress. They are stripping rights away to control us, because the truth of the matter is they couldn't care less whether we live or die or what happens to the fetus after birth. They want to control women, and we will not take it sitting. We will stand and we will fight and we will continue protesting like this until we are understood!"
Cooper Nicholl then gave an improvised speech about the importance of voting in an increasingly polarized United States and talked about how students have to make their voices heard if we want lasting change to take place. Merrin Maughan's unscripted speech warning about the dangers of a post-Roe world was also met with cheers and approval from the crowd.
Audience speakers took the stage afterwards, with some sharing intimate stories of abuse and trauma. One protester even gave a short speech about their personal experience with abortion and teenage pregnancy.
The protest then ended with a message from the organizers, "Everyone check out the Utah Abortion Fund! They're the leading organization in helping Utahns maintain access to abortion and they will continue to help Utahns even if abortion is banned here…They seriously need all the help they can get, especially now!"