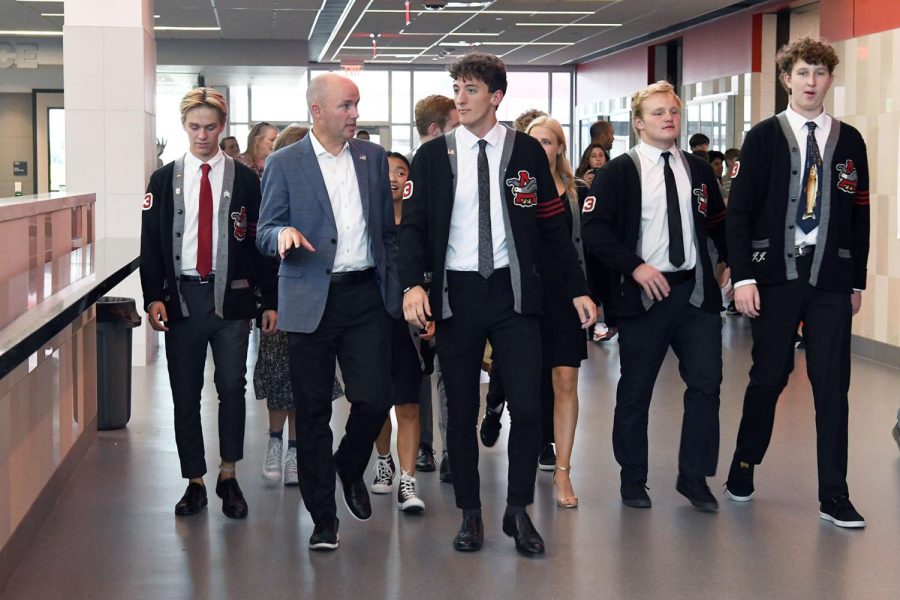 Utah Governor Spencer Cox Visits Alta to Connect with Students
The Governor fielded questions on a variety of topics from mental health, the Great Salt Lake, rising housing costs, and higher education.
Utah Governor Spence Cox has an important message for high school students, so important that he made a visit to Alta Thursday. Alta High School's student council, cheer team, drum line, and administration welcomed him in style. Taking questions from a panel of students, the governor discussed mental health, the environment, housing, and higher education.
For Student Body President Zach Scheffner it was scary meeting someone with such high status and influence.  Scheffner hosted the governor as they moved throughout the building.
"I was excited to meet him," Scheffner said, "but naturally, I was a little intimidated and scared that I would say or do something wrong."
However Scheffner said his worries left his mind when he learned that Governor Cox was "genuine and chill."
"It was a great experience and an honor to meet him," Scheffner said. "I'm happy with how it turned out."
Mental Health
Speaking in both the Hawk Gallery and the Performing Arts Center, Governor Cox spoke on numerous topics of concern. He started with Mental Health.
"Over the past ten years, something changed…something broke," Cox said. He then cited multiple things as the cause of increased student depression and anxiety, from social media apps to changing parenting techniques. He said that the most direct way he is addressing this issue is through the SafeUT app, which allows for students to connect with counselors in seconds and helps prevent people from taking their own lives.
"You are all important to this world," Cox emphasized. "We need everyone one of you here."
Cox then urged students to "find time to sit down and talk to people, especially people you don't know."
He said that speaking to strangers, and showing them that you care can save lives. Cox revealed that he had struggled with his own mental health at school after his parents divorced.
"I had teachers who saw potential in me, and they helped get me through those years," he said. "Finding someone who you trust can be a big factor in making it through dark times."
Alta student Ryland Harris who attended the presentation liked the governor's caring approach to a serious problem. "I like that he showed how much he cared about students' mental health," she said. "He wasn't afraid to get personal with his own struggles."
Environment
The next question involved saving the Great Salt Lake. Students were concerned with water conservation and the environment in general. Cox said he was concerned about the Great Salt Lake, and the disasters it would bring if it were to dry up all the way. "In the past few years, we have experienced more intense dust storms because of the exposed lake bed".
However, he has a plan, which starts with water conservation. "Conservation efforts have been effective, so effective in fact that we have surpassed even what experts predicted."
Cox said he is working with other states to transport more water into Utah at reduced costs, and diverting more rainwater to the Great Salt Lake may help.
"We are really working to save the Great Salt Lake, but we need more funding for that type of conservation." He plans to dedicate more money in this following year to environmentalist organizations and water conservation plans and education.
Housing Prices
Another question from the students was the rising price of the housing markets. By the time many students graduate, many students will not be able to afford houses right out of college. Governor Cox answered these concerns. He said "We're one of the fastest growing states in the country…so the demand for housing is higher than the supply right now."
Cox said that there are about 25,000 air B'nB's in Utah, which decreases the amount of housing available. His solution was to figure out more ways to regulate vacation housing, and work with the owners to create more permanent housing that still allows them to keep their property rights.
Higher Education Prices
The University of Utah is the most expensive public college in the state, costing up to $28,000 for out of state tuition. These numbers are shockingly high, however, according to Governor Cox, Utah has the second lowest rate of the cost of higher education.
Cox said that "the whole system is broken. We need to fix the problem, not just erase the debt." As for a solution, he has met with presidents of many schools across Utah to work out how the cost of higher education can be reduced. He said for now, "there is a lot of help available, such as grants and scholarships."
The assembly concluded 60 minutes after the governor's arrival, and he departed before the final bell at the end of the day.