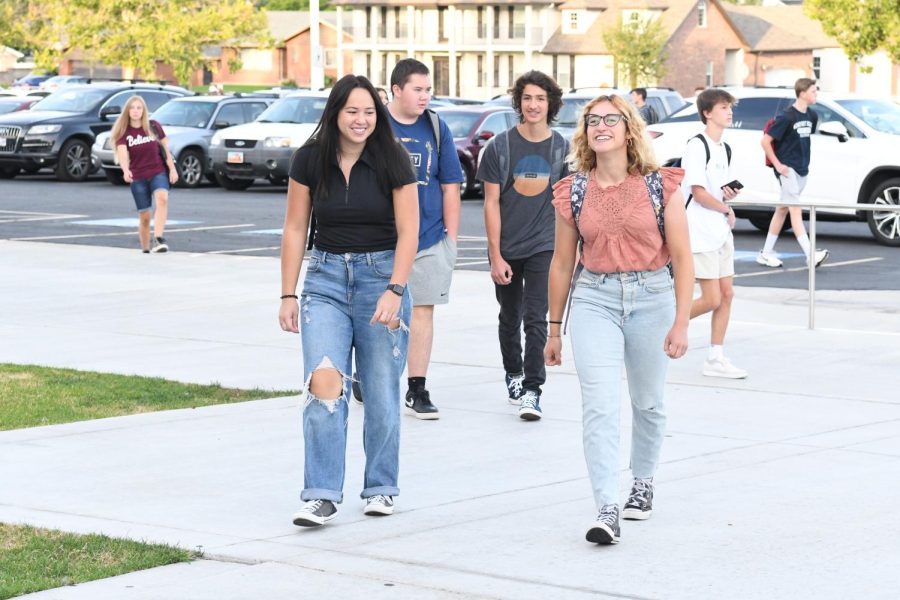 New Attendance Policy Focuses on Improving Educational Outcomes
The new attendance policy is receiving mixed comments from students and teachers.
Many students returning to Alta High School have noticed the district wide changes to the attendance policy this year.
Attendance has decreased in schools across the country ever since the COVID-19 lockdown in March of 2020. However, the policies that enforce attendance have been lax on purpose. During the pandemic, Utah State legislation influenced how schools enforced attendance in order to support struggling families and students.
However, that legislation is changing, and so will school policies.
Assistant Principal Shelly Karren provided more insight into the new attendance policies. "We were flexible for a few years, which was appropriate, but now that we're removed from the heart of the pandemic, it's important to clarify attendance policies," she said.
When students attend school, overall grades are better, learning is increased, and the overall educational purposes are increased. "The number one goal is to get to students to class to increase learning throughout the school and ultimately help students be more prepared to face their futures upon graduation," Karren said.
"
The number one goal is to get to students to class to increase learning throughout the school and ultimately help students be more prepared to face their futures upon graduation."
— Shelly Karren
The new policy dictates that a student must have at least an 80% attendance rate in order to participate in any after school activities, which includes sports teams and clubs. If that limit is exceeded, students will be barred from participating in after school activities and will have a meeting with their counselor and parents to discuss a plan to get back on track.
Some students don't love the change, but they are working to comply with the policy. Football player Lalo Tafisi said, "It's not that hard to get 80%, but it's annoying." It takes more focus and attention to get good attendance rates.
Some athletes see it as "unfair" because people who don't play a sport don't have the same penalty. "People who don't play sports can miss without a penalty," Soccer player Kennedy Oviatt said. "It's not fair."
However, some students who have been at Alta longer feel that it is a fair change. Felicity Harman, a senior who is on the swim team, feels that the attendance policy is fair and will motivate students to attend class more often. "The attendance policy this year lets students make more mistakes before they get punished," she said. "The meetings with counselors are also a lot more helpful than previous years and the No Grades."
Teachers are also totally on board with the new policy. They say anything that gets students to class is a win. English teacher Katie Wilkinson has noticed more students are in class on time than last year. "I can hear the kids rushing to get to classes in the morning," she said. "I see a lot less abuse of hall pass privileges and students just wandering the hallways."
According to teachers, that translates into more students in seats on a daily basis. In the final analysis, that should help students earn high grades and overall achievement.
In 2019, the year before the COVID-19 lockdowns, many students were dismayed to learn about No Grades, which were equivalent to a failing grade. Having a certain number of tardies or absences in a class would lead to a "No Grade" in that class until students could make up that time. It was done away with during the lockdown, but many students felt that it was unfair. With this new attendance policy, students, parents, and administrators feel that it gives students more support and helps create action plans to increase attendance.
While not every student likes the change, teachers, administrators, and even parents are applauding it. Karren has received no concerns from students or parents.
"Parents are pleased that we have…a policy that is fair and gets kids into class," Karren said. "We've already seen improvements in attendance….and already, administrators are meeting with kids who are approaching boundaries for non-attendance… kids are settling back into routines that they've been out of for a few years."
Ms. Karren gave a final message to students and parents still wondering about the new attendance policy: "Stricter attendance policies are what keeps kids the safest and ensures that learning happens because students are where they are supposed to be. Administration cares about you, and welcomes any feedback."