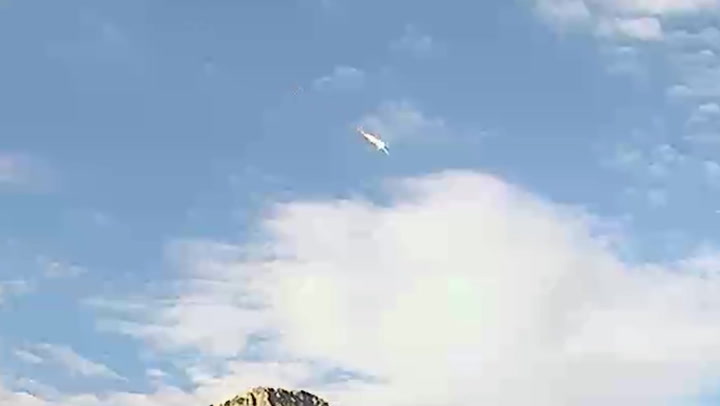 Utah Meteor Breaks the Sound Barrier
A meteor that flew over Utah has been discovered for the first time.
On Saturday, August 13, 2022 at 8:32 AM, What is confirmed to be a meteorite zoomed across the skies of Northern Utah. www.Livescience.com believes the space rock is from the Perseid meteor shower. When it happened, the sound of the sonic boom, which occurs when an object breaks the sound barrier, was captured by home security cameras all over the region, and even heard in parts of Southern Idaho.
¨I did not hear it¨ Said Rylie Harris, a student here at Alta. She did not know what happened at first.
When she found out, she was stunned. "It's kind of scary.¨
Science teacher Ammon Hatch was also blown away by this once-in-a-lifetime occurrence after he found out via his neighborhood Facebook page. "It's pretty rare."
Unfortunately, he was not able to witness it. He was excited but mostly disappointed that he didn't see the meteorite. "I kind of missed out."
Denise Ferguson actually heard the sound and thought it was a bomb, but was relieved when she found out it was a meteor. "I thought a bomb had gone off, and I honestly thought, what disaster now?" she said. " I was relieved that it was a meteorite and interested that something from outer space entered earth's atmosphere. I was really relieved that nobody died."
The National Weather Service's radar recorded two lightning strikes, though there was no lightning. The Utah National Guard quickly debunked any military-affiliated cause as well.
On Wednesday, August 24, A man named Sonny Clary decided to look for the remnants of the meteorite.
"I hopped in the truck, drove out here, and went 'You know what? I'm gonna look for this meteorite.'" Clary said while being interviewed by Fox 13 news Salt Lake City.
Soon thereafter, Clary found a piece of the space rock.
"I can't explain it. It's like meeting your wife for the first time," he said. Later, he decided to give it to the University of Utah. 
"Hopefully it could be called the Great Salt Lake," said Doctor Jim Karner, talking about a name for the meteor. However, Sonny Clary has not disclosed the exact location where he found it.