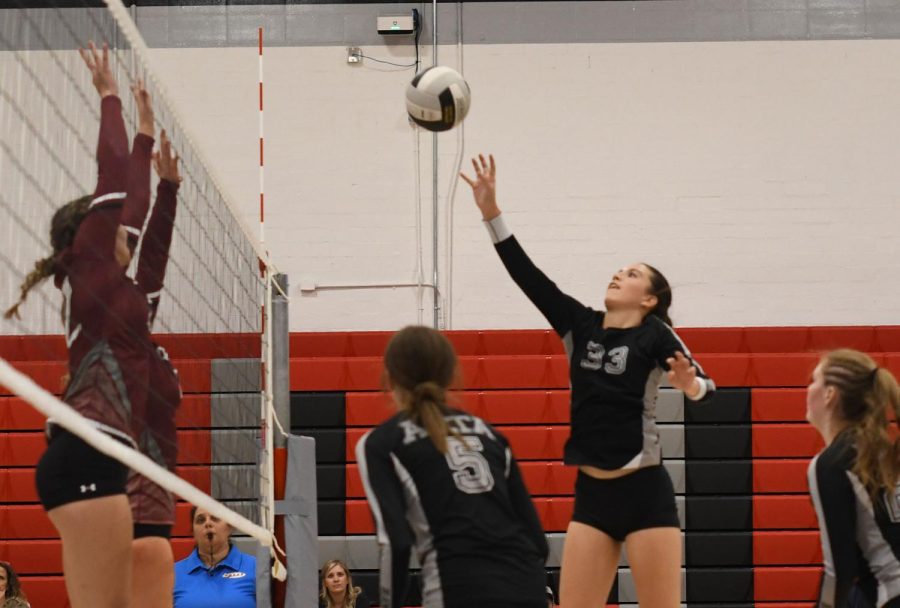 Volleyball Grinds to a Victory in First Home Game in Two Years.
After a year with no home court, the girls volleyball team is ready to take on the competition on the new hardwood floor in the gym.
Senior Macy Wood believes that the girls are ready to face the fierce competition in Region 8, "We just need to play our best and do what we do."
The hawks did just that last Thursday. After falling down two sets to one against Lehi, they rallied back, winning the last two sets, and beating the Pioneers for their first home victory since 2019. The hawks then looked ahead to hosting their district rival Jordan on Tuesday. While Jordan fought hard, Alta prevailed, winning 3 sets to 1.
"Were really excited to finally be back at home playing games again," said coach Mike Gansauge, "after two years away, its good to be back."
The key to for this early season success to translate into the rest of their season is for for the team to come together and learn to play with each other," Gansauge said. "We graduated seven seniors last year, so there is a lot of new faces contributing this year."
Macy Wood thinks that they can do just that.
"The thing I love most about our team this year is our close chemistry, and that we all get along." Macy said.
Coach Gansauge is also proud of the girls ability to adapt and learn new things to help the team succeed. "We have a lot of girls that we're asking to play new positions and do new things they have never done before," he said.
The girls' ability to adapt to what they are asked to do is a testament to how hard they work.
Those who may be interested in trying out for the team can be on the look out for open gyms, which run during the month of April, and pick up again during the summer.
Macy encourages anyone who is interested to come and tryout for the team. "Playing volleyball has been a lot of fun, and anyone who comes will meet some of their closest friends," she said.