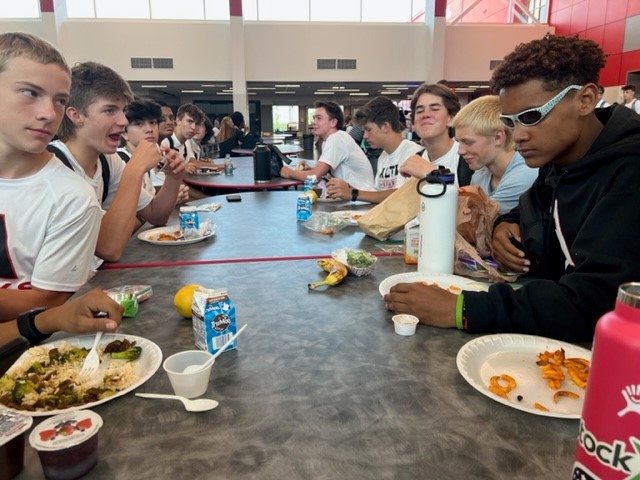 Students Praised for Improved Lunch Behaviors
Students are doing a better job cleaning up after themselves this year from last year administrators say. We can do even better.
Lunch, food, and the mess that comes with it are a part of high school, but students can do a lot to make things easier on custodians and cafeteria workers, hall monitors, and administrators.
2021 was a banner year for messes, and so far this year, things are better according to administrators.
Assistant Principal Kalisi Uluave said things are looking like they are trending in the right direction. "While it's not perfect, people are doing better at cleaning up," he said. "It's especially helpful because we are experiencing a shortage of custodians."
Uluave reminds Alta students to treat the school with respect, and to remember that every mess they make is a mess that someone else has to clean up. He believes that if we all band together and make a better effort to take care of our school, we can all benefit.
"
If you see some garbage left on the lunch table or ground, throw it into a nearby trash can."
— Armando Delgado, Custodian
The custodians are asking everyone to help do their part to alleviate some of the stress on the school staff. "If you see someone leave a mess at a table, remind them to throw it away," said Custodian Armando Delgado. "If you see some garbage left on the lunch table or ground, throw it into a nearby trash can."
Hall monitor Stephanie Christensen hopes the trends from last year are in the past and students continue to develop cleaner, more respectful habits when it comes to lunch time food and garbage. "I was very disappointed in student behavior last school year and hope students continue to choose the higher way," she said.
"Last year was awful around lunch time. People were throwing food everywhere and making enormous messes, it was crazy," Christensen said. "It was sad to see."
Last year the staff spent a lot of time dealing with students actions. They spent countless hours cleaning up food that had fallen on the floor after students had thrown it and left it for someone else to clean. They cleaned smashed blueberries off of walls, fished garbage out of toilets, and mopped up puddles of spilt milk off the floor.
Alta Hawks are above that sort of behavior Uluave said. "Thankfully, we are moving in the right direction."