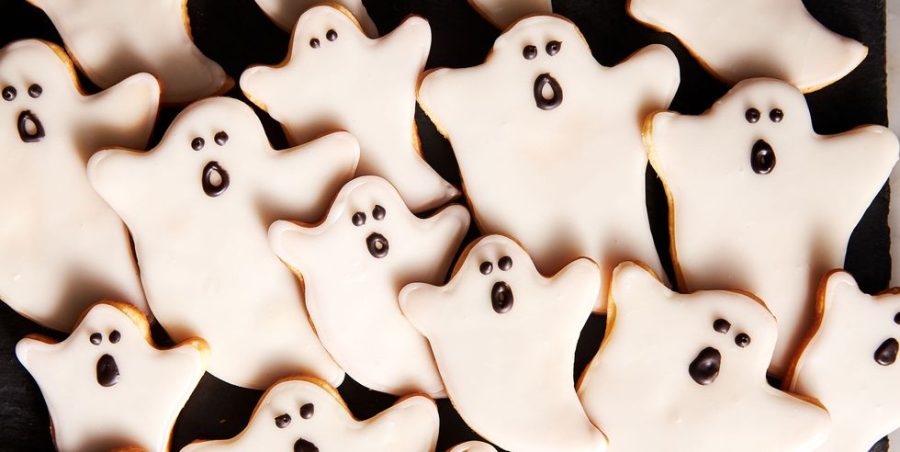 Quick and Easy Recipes to Celebrate Halloween!
Halloween is just a few weeks away! Here's a few easy recipes to help get you celebrate!
Pizza Skulls:
Pizza Skulls are tasty pizza pockets that are shaped like skulls. They are very easy to make. You will need a skull baking pan in order to shape the pizza, but everything is straightforward from there.
Ingredients:
1 can of Pillsbury dough sheets
Pizza Sauce
Shredded cheese (Mozzarella and Parmesan are good kinds to use)
Add any other toppings you want!
Instructions:
Preheat the oven to 400 degrees Fahrenheit. Grease the skull baking pan with butter or cooking oil.
Take the dough sheets and roll them out into rectangles. Each rectangle will go into one skull mold. Fit the dough into the molds, making sure to press it as tightly as possible to the edges without tearing it. Make sure you leave room for the dough to fold over on top of the fillings.
Spoon the sauce into the dough and spread it around. Then add cheese, and your chosen fillings. After all the fillings are added, add a little more sauce on top.
Fold the dough over the fillings and pinch it closed to seal it.
Put the pan in the oven and bake for 16-20 minutes, or until lightly golden brown.
When the skulls are done, take them out and let them cool for five minutes. Take them out of the molds carefully, and viola: Pizza skulls! Enjoy!
Apple Pie Bites
Apple pie bites are way easier to make than apple pie, and this pleasant treat that can fit in your hand might be more tasty too!
Ingredients (to make 8 bites):
1/3 cup of brown sugar
2 teaspoons of ground cinnamon
3 tablespoons of melted butter
1/3 cup of chopped walnuts or pecans (optional)
1 apple, cored and sliced into 8 pieces
1 can of Pillsbury crescent rolls
Instructions:
Heat the oven to 375 degrees Fahrenheit. Line a cookie sheet with parchment paper and set it aside.
Unwrap the crescent roll and separate it into triangles.
Combine the brown sugar and cinnamon in a bowl,
Spread the butter evenly onto the dough triangles. Pat the cinnamon mixture onto the butter, making sure there is a lot on each crescent. Sprinkle with walnuts or pecans.
Place a slice of apple onto the wider side of the dough triangle, and roll it up, towards the top point. Do this for every dough triangle.
Arrange the apple bites on the cookie sheet and spread any remaining butter on top of each. Sprinkle cinnamon on top of each.
Bake for 12-15 minutes or until golden.
Let them cool for 10 minutes before eating them. Enjoy!
Easy Cinnamon rolls
Homemade cinnamon rolls don't have to be hard to make. This recipe is incredibly easy, and can be made anytime.
Ingredients for the rolls:
12-count pack of Hawaiian sweet rolls
1/2 cup of softened butter
1/4 cup of brown sugar
1 tablespoon of ground cinnamon
Ingredients for the glaze:
1 cup of powdered sugar
2 tablespoons of melted butter
1/2 teaspoon vanilla extract
Instructions:
Preheat the oven to 350 degrees Fahrenheit and grease a 9 x 14-inch baking pan.
Mix the brown sugar and cinnamon together in a small bowl.
Don't tear the rolls apart. Instead, cut the mass of rolls in half horizontally and set one half into the greased pan.
Spread the melted butter on top of the rolls, and pat the cinnamon mixture evenly into the butter.
Bake for 12-13 minutes
Instructions for the glaze:
While the rolls are baking, mix the sifted powdered sugar, butter, and vanilla extract together. Stir until smooth.
When the rolls are done, drizzle the glaze on top of the rolls immediately.
Pumpkin Chocolate Chip cookies
Pumpkin cookies may seem hard to make, but this recipe simplifies it, and are as good as the store bought kind.
Ingredients:
2 cups of flour
2 teaspoons of baking powder
3/4 teaspoon of baking soda
1 1/2 teaspoon of ground cinnamon
1/2 teaspoon ground ginger
1/2 teaspoon ground nutmeg
1/8 teaspoon ground cloves
1/2 teaspoon salt
1/2 cup granulated sugar
1/2 cup light-brown sugar
1/2 cup vegetable oil
1 large egg
1 teaspoon vanilla extract
1 cup of canned pumpkin puree
1 1/2 cups chocolate chips (any kind)
Instructions:
Preheat the oven to 350 degrees Fahrenheit. Line a baking sheet with parchment paper.
Mix the flour, baking powder, baking soda, cinnamon, ginger, nutmeg, cloves, and salt. Set aside the mixture.
In a separate bowl, mix the granulated sugar, brown sugar, and vegetable oil until combined. Then mix the egg, and vanilla extract, then blend in the pumpkin puree.
Slowly add the flour mixture into the pumpkin mixture until combined.
Fold in the chocolate chips until they are evenly spread through the dough.
Spoon the dough onto the parchment paper. 2 tablespoons of dough per cookie is recommended, spacing each cookie two inches apart.
Bake for 11-13 minutes. Let them cool for 10-15 minutes before transferring the cookies to a wire rack.