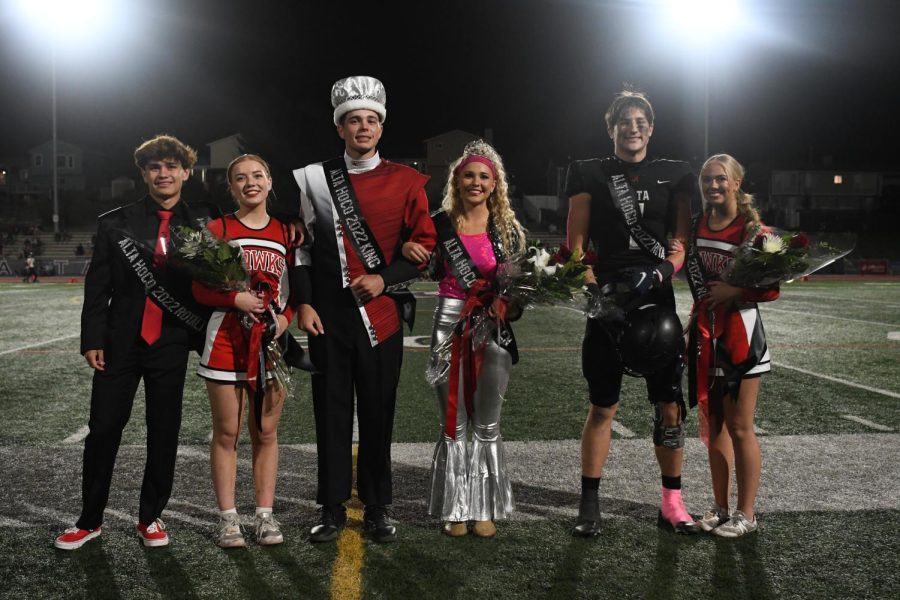 Homecoming 2022, One of the Best Years Yet
For Student Body Attorney General, JJ Sullivan, Homecoming week represents weeks of planning and hard work on his part and that of everyone in student government.
The work was all worth it according to Sullivan. His hope was that Student Government could plan and execute "one of the best Homecomings in Alta history."
"
Everything about this week was phenomenal. This was the best Homecoming I've seen in 18 years in education; I have never seen school spirit like Alta."
— Melissa Lister, Assistant Principal
Pep Rally, Parade, and Burning of the "A"
After the opening assembly, more fun followed with the Royalty Pageant on Monday night and the highly energetic and well attended Pep Rally the middle of the week, with the parade, senior girls flag football game, field games, and the traditional burning of the "A." 
In the flag football game, the "Hot Heads" (red) sparred off against "the "Pink Panthers" (pink). A touchdown by senior Starley Ferguson led to a 7-0 victory for the "Hot Heads."
Raquel Passey loved playing in the game. "The best part was watching Starley make a touchdown," she said.
In grade competitions, Jack Felsing even drank an entire gallon of milk, and was the crowned champion, even through the continuous vomit.
Homecoming Game and Halftime
Thursday brought the Homecoming game complete with a tailgate party, athletic competition with Jordan High School, the traditional Homecoming Spectacular with performances from Drill, Dance Company, Cheer, and Ballroom that culminated in the combined "AHS" performance. The whole game experience could be characterized as non-stop energy in action. 
The game was a massive success with a 56-7 victory over Jordan. At halftime, students changed into white clothing and administrators announced the homecoming king and queen, Sam Mazuran and Destiny Howard. Boston Blanco and Kennedy Guth were crowned second attendants with  Audrey Kremser and Alex Lopez were first attendants.
This year's court seemed to be involved in other ways with Homecoming. Kremser and Guth performed with the Cheerleading Team, Mazuran is in the Marching Band, Blanco played in the football game, and Howard performed with the Ballroom Team.
Mazuran loved being voted Homecoming King. When asked about his competition, he said, "They are good dudes, they're super funny…" Mazuran was all smiles and waves as his name was announced.   
Howard loved being part of Homecoming and said being voted queen was "a really cool way to represent the school." 
Assistant Principal, Melissa Lister said everything about this week was "phenomenal."  Lister should know. She has worked in Florida, Massachussetts, and Logan, Utah.
"This was the best Homecoming I've seen in 18 years in education," she said. "I have never seen school spirit like Alta."
Lister also said the students were "well behaved, energized, and awesome."
The last activity of the week is the Dance, "Dancing in the Moonlight" tomorrow night in the Commons.