Make Your Own "Swig" Cookies
Want to make your own replica of the delicious Swig sugar cookies? Here is a copycat recipe for you to make at home! These cookies are sweet, thick and can be topped with smooth pink frosting or any other color for that matter. This copycat recipe is originally from Lil' Luna.
Hawkeye adviser Mrs. Ferguson took the recipe for a spin to see if she could come close to baking one of her favorite cookies, the pink sugar cookie. Ferguson said she will never roll out sugar cookie dough again. The technique this recipe suggests is a game changer in the sugar cookie world. The only reason to roll out dough is if you want your cookies shaped like ghosts, skulls, christmas trees, valentine hearts, etc.
Here's the recipe.
Servings: 36 cookies
Ingredients
1 cup butter (room temperature) (2 sticks)
3/4 cup vegetable oil
1 1/4 cup sugar
3/4 cup powdered sugar
2 tbsp water
2 eggs
1/2 tsp baking soda
1/2 tsp cream of tartar
1 tsp salt
5 1/2 cups all-purpose flour (Watch your flour …. make sure the dough forms a ball but isn't at all crumbly.)
Frosting
6 tbsp butter(room temperature)
3 cups powdered sugar
1/2 tsp salt
3-4 tbsp milk
1/2 tsp almond extract
red food coloring
Notes

1. Begin by creaming together butter, oil, sugars, water and eggs in your mixer. Mix for a few
minutes until well combined.
2. In a separate bowl, combine dry ingredients and slowly add to butter mixture.
3. Mix all ingredients until they are well combined. Dough should not be gooey / sticky; it shouldn't be dry or crumbly either.
4. Roll dough into 1.5 inch balls and place on a greased cookie sheet. (Mrs. Ferguson wanted smaller cookies, so she made one inch balls.)
5. To give the cookies their cracked edges, place ¼ cup sugar and a pinch of salt in a separate bowl.
Place the bottom of a glass into this mixture and then press it onto your ball of dough. The
diameter of the bottom of the glass should match the size of your cookie. (Mrs. Ferguson used the small juice glass.)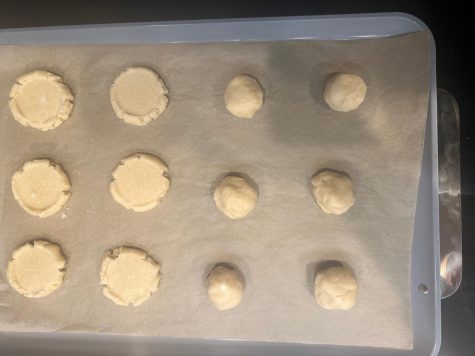 6. Press cookies until they are a bit wider than the glass bottom diameter and cook at 350° F for 8 minutes. Cookies end up being about 3.5 inches in diameter after being baked. (Mrs. Ferguson's cookies were about 2 inches in diameter.
7. Let cool and place in fridge.
8. For the frosting, mix butter, sour cream, powdered sugar, salt, 1 drop food coloring (if desired) and almond
extract. Mix well and add the desired amount of milk you want to get it the frosting thickness you want.
9. Spread frosting on cookies right before serving.
10. Sprinkles are allowed!
11. ENJOY!