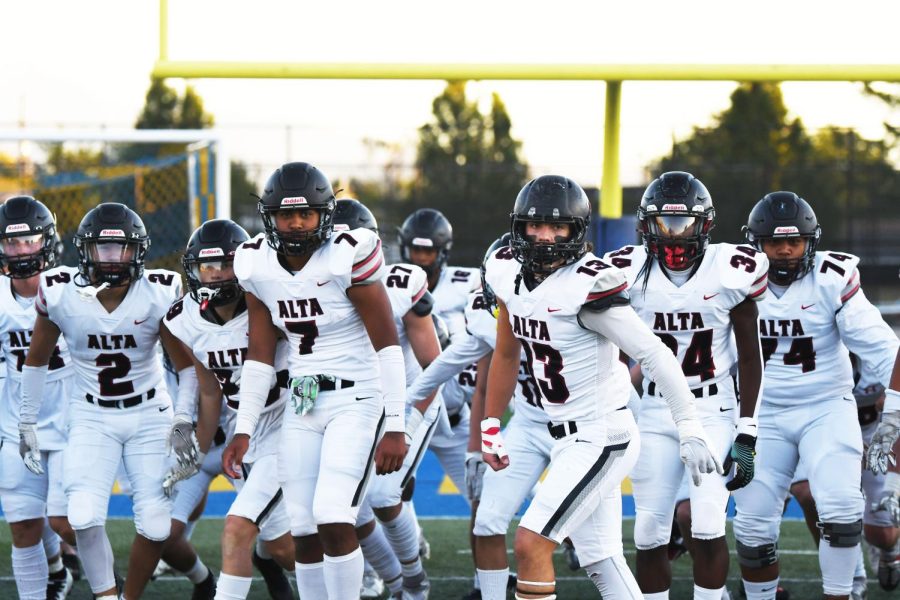 Underdog Alta Faces the Bonneville Lakers in the First Round of the 5A Playoffs
Alta's 4-5 record will match up with the 6-3 Lakes in the first round of the 5A state tournament Friday at 4 p.m. in Ogden.
The football team's 56-7 Homecoming win over Jordan brought the regular season to an end on a high note, sending them with confidence to face first round playoff opponent the Bonneville Lakers in the 5A tournament that starts on Friday.
After a mediocre regular season, the Hawks finally have some momentum heading into the postseason. Head coach Alema Te'o said they are in a great place to make a run in postseason. "If we play our game and play our best, we can win," he said. "We have the talent and the drive for success."
The players are on the same page as Coach Te'o with the belief in the ability to make a substantial postseason performance.
Many of the players feel that the team isn't winning as much as they should. By looking at their roster and players abilities, they should be a seven win team.  However, the players know they are the only ones that can turn the season around, and that they will, according to team captain Tate Medina.
Most players think that the team is being overlooked by opponents. "We're going to shock some teams,¨ said player Asher Merrill.
The team's overall talent does not match the 4-5 record; The players believe they are a much better team than shown on paper.
The first round Lakers have a record of 6-3, but don't let that fool you. The Lakers haven't beaten a team with a winning record in the regular season this year. The teams with winning records had beaten the Lakers by two or more scores. 
The Hawks are confident in their ability to beat the Lakers in the first round.  Medina said, ¨We don't even need to know who we're playing, we´re better.¨
The team's morale is at an all time high, with all the players on the same page with confidence. 
Starting quarterback Matt McKea said the team has the right pieces pieces to win. "We just need to put them together," he said. ¨The team's talent is compared to those of Timpview, yet the record says otherwise."
All of the players know that if they want to play another day, they must win, so they need to, according to Medina, "lock in and get it done together."