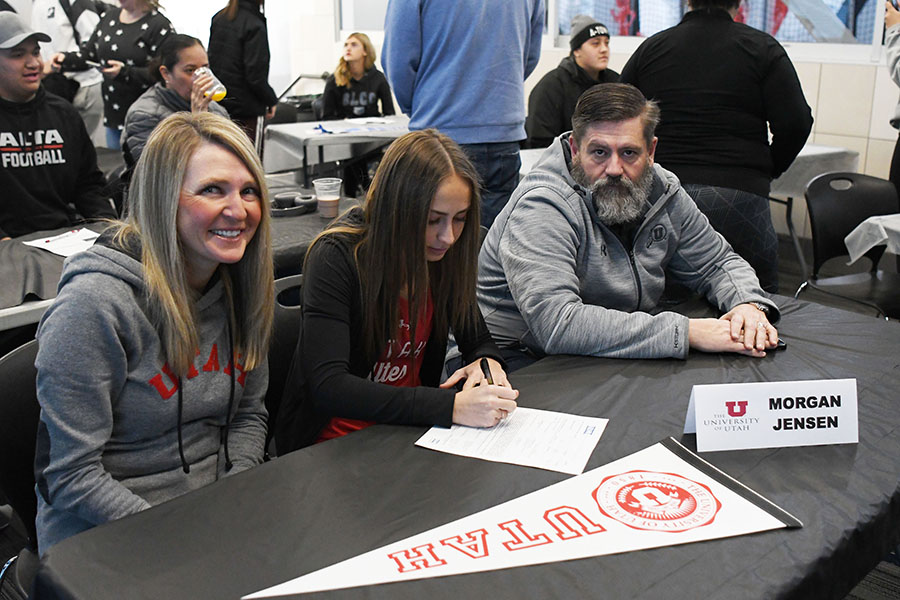 Students Commit to the Sports they Love on College Signing Day
March 30, 2020
As the fall sports season ended, Alta had many athletes sign to schools from all over! With seniors getting closer to graduation, many of them had the difficult, or easy, choice on what college to select, sports or not.
For soccer  two athletes commited. Megan Vawdrey will attend Idaho State and Kate Dowdell will stay closer to home and attend SLCC.
Volleyball had an insane amount with five athletes committing: Teaeya Pilgrim is going to Cal State Bakersfield,  Sunny Brown to Hawaii Pacific, Marlee Albrecht to Central Wyoming College, and Cassidy Nixon and Sequoya Fail are in the process of committing now.
Morgan Jensen committed to Utah for both cross country and track!
also had five football players committing, Daniel Thomason to Dixie, Isaia Thompson to Idaho State, Jaden Kinnersley to Southern Virginia University, Lucky Finau to BYU, and Christian Tau to Riverside Community College in California. Out of all these, there were five division one schools, which is a really big deal!
For these student athletes, working hard in high school for this as an end goal might all be worth it. Morgan Jensen, who is committed to the U, said "I have always wanted to do a sport in college, so I set a goal for myself freshman year to run in college."
For most athletes, high school sports have been filled with countless practices, games/meets, friends, and overall good times. Megan Vawdrey, who committed to Idaho State, said she is most excited to play in college so she can make new friends and have new experiences in college soccer, while high school taught her accountability.
As all seniors graduate to bigger and better things, high school has taught so many things, whether in sports or not!