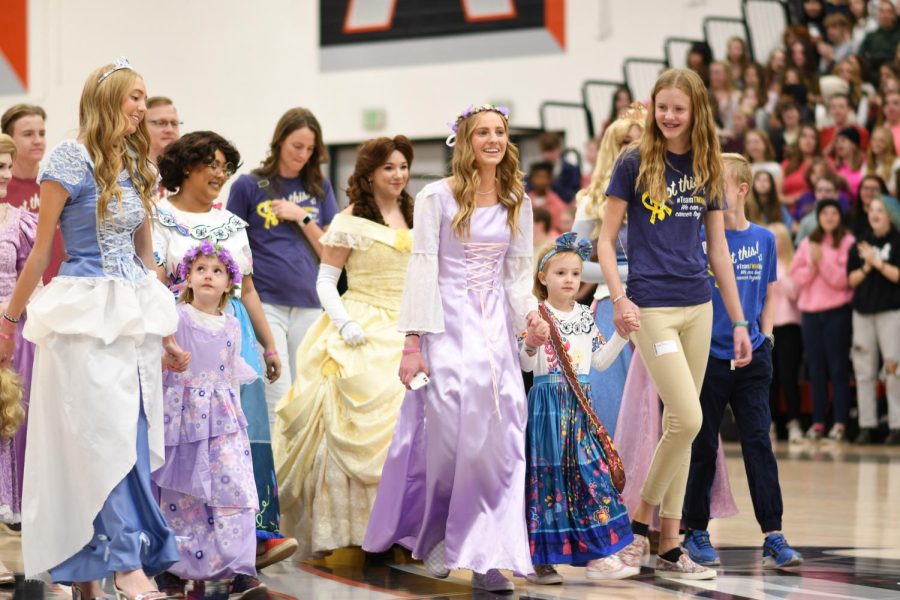 Alta Kickstarts 2022 Make-A-Wish Fundraiser
The Make-a-Wish fundraising season is here. Students can participate in numerous fundraising opportunities to send Elle to Disneyworld.
For Elle, this year's Make-a-Wish child, going to Disneyworld is her deepest wish. Elle has leukemia and a trip to her happy place would make life happier and be a distraction from hospitals and medical procedures. Alta students can make that happen.
For many years, students have risen to the occasion and dug deep to raise money to sponsor a wish for a child through the Make-A-Wish organization. Two years ago they sponsored Elle's twin sister Kate and granted her a backyard makeover.  
"Alta students are always eager to help out with make-a-wish… it's amazing to see," said Student Body President Zach Scheffner, "If everyone chips a small amount, we can do an amazing thing this family."
"
If everyone chips a small amount, we can do an amazing things for this family."
— Zac Scheffner, Student Body President
The fundraiser kicked off with a bang at Wednesday's opening assembly, led by Alta's SBO's introduced the student-body to Elle and her family, including Kate, a familiar face for Alta's older students. Students participated in Disney princess trivia, competed in a princess themed relay race, and a visit by Elle's favorite Disney princesses.
Student Body Historian Kimmy Ha, who played the fairy godmother, enjoyed being part of the assembly. At first Elle was afraid of being the center of attention at the assembly, but she warmed up as time went on. "I liked helping put the assembly together," Ha said. "I especially liked  making Elle smile since she was so shy at first."
After finishing the activities for the assembly, SBO's introduced to the various activities and fundraisers students can participate in to raise money. The fundraiser opened Wednesday with the assembly, followed by a Spikeball tournament Friday with various other activities such as Pickleball, Mariokart, and ping pong tournaments running throughout the end of December.
As part of the fundraiser Alta is having two themed dances. The first is Red Rodeo, a girls choice, cowboy themed dance on November 5th, and the second is the annual Winter Charity Dance, a boys choice pajama themed dance on December 3rd. Various local businesses are also teaming up with Alta to raise money. These businesses include favorites of Alta students like Zupas, Airborne, U-Swirl, Swig, and Classic Fun Center. A full list of fundraising nights can be found on the billboards in the commons.
Teachers and staff have also offered incentives for Alta students if they reach certain fundraiser goals. A few of these include teachers getting pie in their face, getting dunked in a dunk tank, and sprayed with silly string. The administration has also offered a spirit week before winter break, including an hour lunch for students.
Student Johnny Salazar is looking forward to the Human Hotdog. "It will be funny to see a teacher covered in ketchup and mustard," he said.