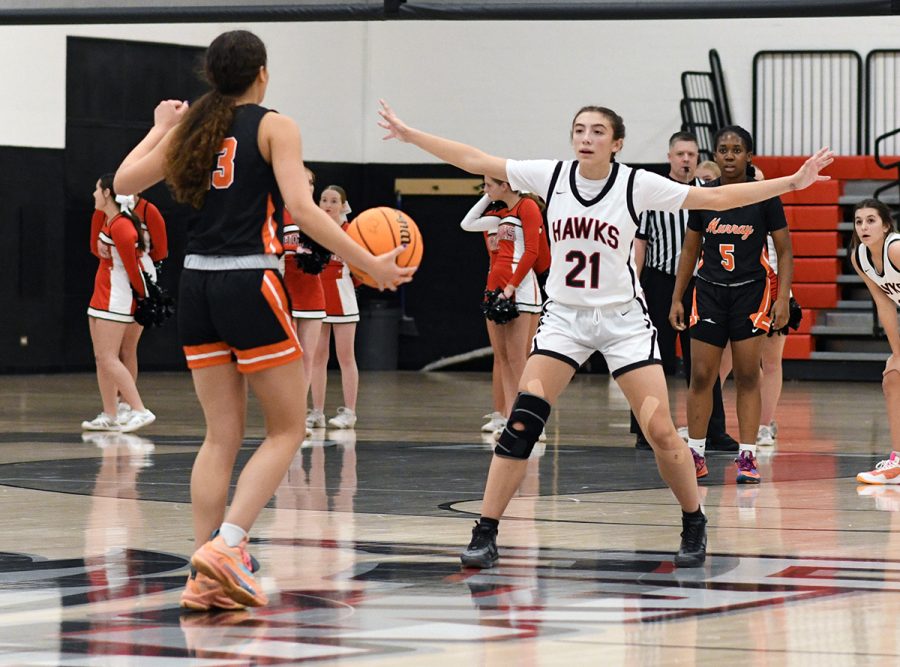 Girl's Basketball Tips Off On The 2022-2023 Season
The lady hawks fell short 60-32 as they opened their season against Murray last Tuesday.
Girl's basketball opened their season against Murray, falling short by a score of 60-32. The Hawks jumped out to a lead early, but gradually fell behind as they failed to score points on offense, shooting 21 percent from the field. Sophomore Brooklyn Larsen led the way for the hawks, recording 9 points, 11 rebounds, and 5 assists; all team highs. Junior Daphne Martin also showed off her ability to shoot from the outside, hitting two 3-pointers.
While the game didn't turn out in the girls' favor, the future is bright for the team. The Hawks look to replace a large senior class that graduated last year, which included their top three scorers. While a lack of experience will be an obstacle for the team to overcome this year, Head Coach Elizabeth Gustafson says that the team's goals stay the same, "We're always working to get better, and improve every season."
Junior Ashley Ferguson feels good about the team this year, "I think we've got a good team this year, and it should be really fun to see how the season goes."
She also loves how well the team works together, and how close they all are. "My favorite part about the team is how well we bond and the memories we create," says Ferguson. "Its really awesome to be part of a team at Alta."
Being a part of the team doesn't end when the girls step off the court, though. The team participates in various team building activities to give back, such as volunteering at a local nursing home. These opportunities are a great way for the girls to bond with each other, and have the ability to give back to the community around them.
The Hawks were tested last week as they took on their rivals, Brighton and Corner Canyon. They faced the Bengals Tuesday at Brighton high, before closing the week out at home against the Chargers. They fell short in both games, losing 50-71, followed by another loss, 83-27.
The girls play at home twice this week, facing Mountain Ridge on Thursday, and Granger on Friday. Both games tip off at 7 p.m. and Coach Gustafson encourages everyone to come and cheer on the team, "It would be awesome if everyone came out and showed their support."