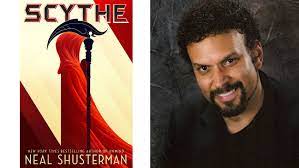 Best Selling Author Neal Shusterman to Visit Alta November 28
Sign up this week to attend this special assembly. Click on the link embedded in the story to reserve your spot.
Best selling author Neal Shusterman will make a stop at Alta high during his book tour, and students only have until Monday the November 21st to sign up.
According to Alta Librarian Amanda Scott, Shusterman is arguably the best juvenile author with over 30 young adult novels under his belt. Monday, November 28th, the day after Thanksgiving Break, students can see him in person in the Performing Arts Center during first period.
To attend the assembly, student need to sign up in a Google form. : https://docs.google.com/forms/d/e/1FAIpQLScW5E4FcgN-zkbgUN-0Z2vI_SY8n6Dkdnmsc-CQ0ukzulva2g/viewform?usp=sf_link.
Scott is excited to welcome Mr. Shusterman here. "This is a once in a lifetime opportunity for our students to hear a New York Times Bestselling author come speak," she said. "My book club has described him as the American dystopian J.K. Rowling."
If you have any questions, please see Mrs. Scott in the Media Center or ask your ELA teacher for more details.