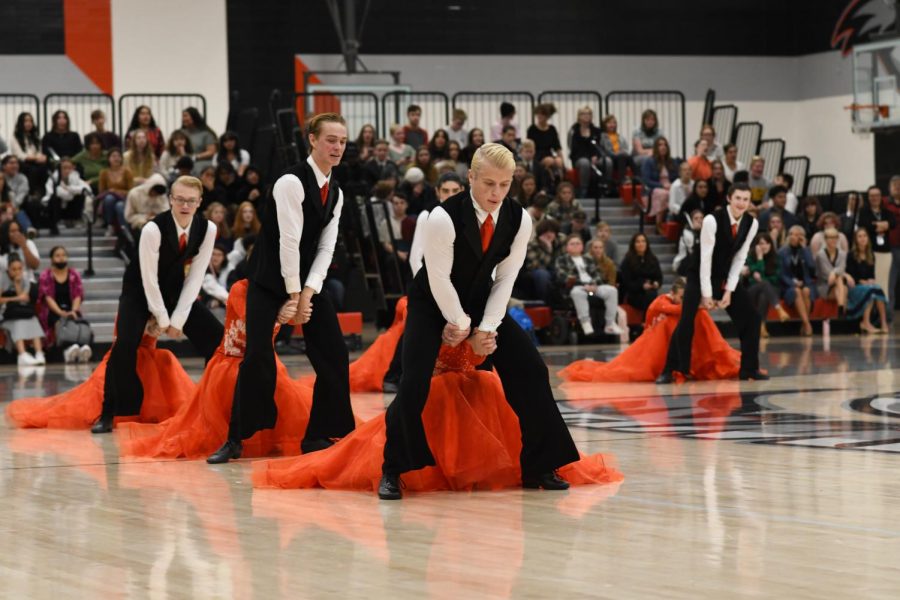 Dancing With The Hawks 2022
Dancing with the Hawks is a fun and exciting Alta tradition, and all the proceeds will go to Alta's Make-A-Wish girl Ellie.
Dancing with the Hawks, a tradition that has remained strong since 2015, will take place Monday, December 5 at 7 p.m. in the Performing Arts Center.
In this competition, teams of students compete for a chance to win a trophy and bragging rights, with the a portion of the admission cost going to this year's Alta Make-A-Wish girl, Ellie.
Each team consists of two people, one being an experienced dancer and the other an amateur. The dancer must teach the rookie the basics of dancing and choreography. They must then come up with their own performances. The winner of the competition is determined by the audience's vote.
Ballroom teacher Dana Lambert calls Dancing with the Hawks, "fantastic."
"I am so proud of the teams," she said. "They show such good sportsmanship, and they develop patience and creativity. You should really come see it."
For this year's competition, there are eight teams. One participant, Cali Jeppson, enjoys becoming friends with her dancing partner. "I love having the ability to get to know the person I'm teaching better and create a lasting friendship with them. It's a great learning experience for both of us and I have so much fun doing it!"
The competitors this year are: Cali Jeppson (Ballroom president) and Jon Newell (Basketball), Calder Nelson (Ballroom vice president) and Raquel Passey (Tennis), Grace Lyon (Ballroom publicity) and Sam Mazuran (Drumline), Taylor Hadfield (Ballroom men's costume) and Izzy Hanson (Peer leadership team), Gretel Larrabee (Ballroom women's costume) and LeRoy Barlow (Cross country), Mary Utley (Ballroom secretary) and Ian Smith (Football), Nathan Christensen (Ballroom dance captain) and Boston Smith (Lacrosse), Zoe Wixom (Ballroom co-dance captain) and Brody Gibbs (Theater), and Ella Jensen (Ballroom financial co-chair) and Alex Bennion (HOSA).
Taylor Hadfield, a competitor representing Ballroom men's costume, stated: "It's going to be a good time. I'm a little nervous, but I'm ready." He is proud of his partner and is happy to show good sportsmanship. "It's not about winning," he said.
Izzy Hanson, Taylor's dancing partner representing the Peer Leadership team, has been very committed to this competition. "I have put in over 20 hours of practice into Dancing with the Hawks," she said. "This experience has been really fun for me to learn how to dance and really push myself!"