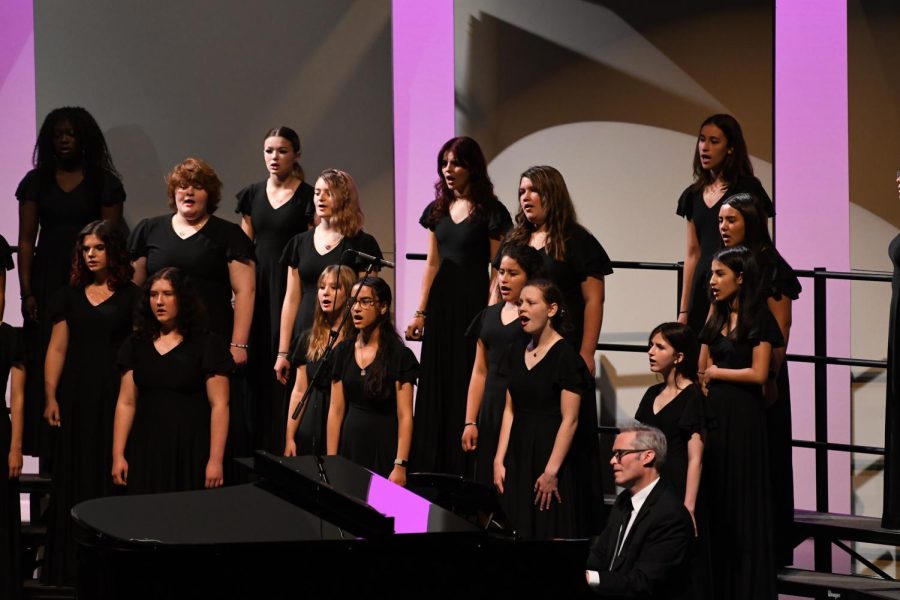 Performing Arts Set to Lighten the Christmas Spirit With Collection of Winter Concerts
Choir, band, and orchestra are ready and excited to kick off the Christmas season.
The Christmas spirit can be felt in the practice rooms of the performing arts center at Alta High as choir and orchestra prepare diligently for their annual Christmas concerts. The concerts, which are a part of Alta High tradition, start December 6th, and continue through the winter season up until winter break.
Jazz and Percussion start the festivities on the 6th, followed closely by Band and Orchestra on the 7th, and come to a conclusion with Choir on the 12th.
The band concerts will each start at 6 p.m. and have free admission.
The choir concert tickets are priced around $4.50 (including online fees) and can be purchased online at ahsathletics.com. This concert begins at 7 p.m.
"We love being able to help raise funds for Make-a-Wish," says Choir Director April Lund, "We hope to make a sizable donation this year."
Helping the band and orchestra create a jolly Christmas spirit is the Indian Hills Middle School Band who will also be performing during the concert. "We're looking forward to the Indian Hills band joining us for our concerts," says Band Director Caleb Shabestari, "It will be a great experience."  
The lineup of holiday tunes ranges from popular holiday classics like "Last Christmas" by Wham, to traditional Christmas carols like "Angels We Have Heard on High." Performers are also looking forward to performing lesser known songs such as "Ah-Ding Ah-Ding Ah Ding" and "Hot Hot Hot." 
"I love performing "Hot Hot Hot," says jazz musician Brynlee Clegg, "It's the best song we play."
For Brynlee, music is one of the main highlights of her life, "Music's become a big part of my life," she says, "I love the people I perform with, and it feels like we're really just one big family." For Orchestra President Liz Numbers, music helps her relieve stress and clear her head, "I've been playing music since I was three years old, and it really helps me relieve stress, it's become therapeutic."
Choir Director April Lund encourages everyone to come out and support the choir performers, and the Make-A-Wish foundation, "We have a lot of fun and beautiful music planned," she says, "I don't think it can be Christmas until you go to a concert with Christmas music. It is what makes the season special."