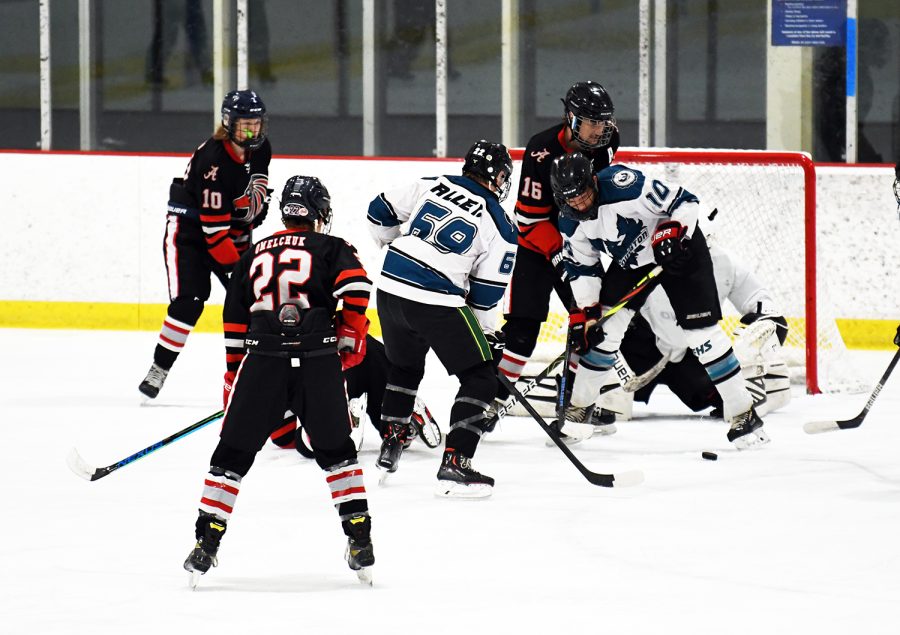 Hockey Team Rolls into the New Year on a Winning Streak
Alta hockey is hitting the ice and moving full steam ahead to finish the season well. They have won nine of their 12 games so far.
The Alta hockey team is on a roll with winning nine of 12 games for the season.
Player and goalie Vincent Turcotte attributes the team's success to teamwork and synergy among players on the ice.
"We've got great guys on the team" said Vincent Turcotte. "When we start a game, I get pretty nervous about how I'll perform. I can trust them to make good plays."
Brynn Andreason, the manager of the social media accounts for the team loves working with the team because of the great community they have built together.
"I've never had such great friends in my life," Andreason said. "I am usually very confident, but when we play a hard team it's kind of nerve wracking. I would say that 99 percent of the time I am certain they're going to win."
"There's never a dull moment when you watch the games. It's intense in a good way" Andreason said.
The hockey team is ranked 12th out of 29 teams total in Utah.
Mattox Ochoa, whose position is the right wing, has played several years for Alta. It's what he does and he does it well.
"We're all like family, and the coach is very supportive." Ochoa said.
Ochoa has a different outlook on the hockey season, however. "It's been a very interesting season, with a lot of ups and downs. We still have a positive record, though."
Heading into a game, he says he still gets butterflies when he skates onto the ice ready to her the puck hit and ice and for play to begin.
The team has yet to cement their legacy, but there are still a few games left in this season.