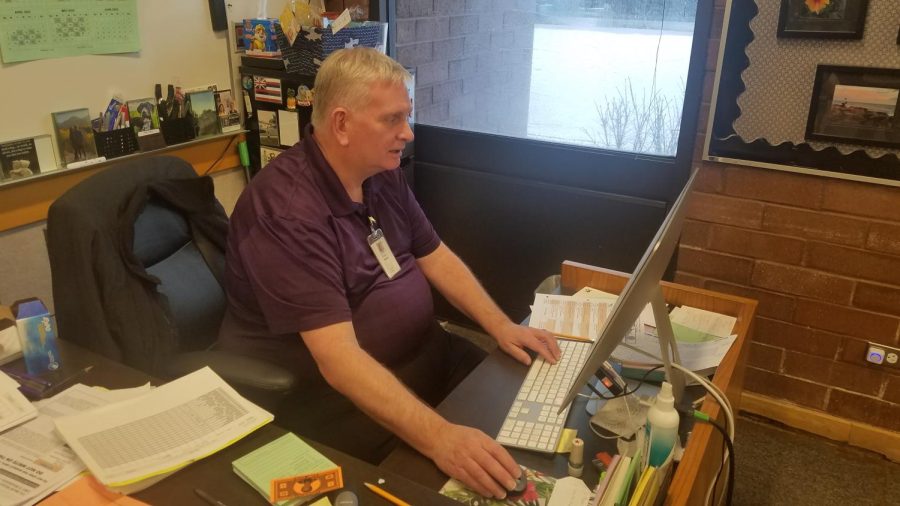 Teacher feature: Karl Packer, to Retire after Decades of Service to Alta
Karl Packer, the second most seasoned teacher at Alta (tied with Mr. Harrington), is retiring at the end of this school year. He has taught since 1990, a mind-boggling 33 years. He has covered various subjects, such as Debate, US History, Psychology, Law Enforcement,and World History.
He decided to teach at Alta because he looked up to Mr. Ochoa, who has taught here since the school's opening in 1978. "I respected Mr. Ochoa and his work. He spoke in one of my classes in college, and that's how we met."
"
I have had a remarkable experience at Alta, and it's something I'll never regret."
— Karl Packer
His favorite things to do with other teachers has remained mostly the same. "When I first started here, we would attend sports games together," he said. "Now, we do other things to support the school." His favorite things to do with his students are to help them learn new things.
According to Packer, the students, the diversity, the community, and the strong staff make Alta a great place. He believes the staff and everyone who works here are experienced at what they do, and they are great to work with. The diversity of all the students and teachers is profound, and so is the community in general. These things are what put Alta on the map.
Mr. Packer is proud of a lot of things over his teaching career. "I coached Debate and Tennis, and we got a lot of awards." However, he doesn't just care about the trophies and wins. "I was able to make a difference in my relationships with my students in those events."
JJ Sullivan, a former student in Mr. Packer's AP World History class, enjoys the humor and teaching style of him. "I was able to relate to him." says Sullivan. "He is a great figure to follow and he encourages his students."
Tristen Rusten is taking an AP Modern World History class taught by Mr. Packer, and he enjoys it equally as much. It has made school more enjoyable for him, and he has high hopes for the AP test. He loves how Mr. Packer teaches. "He takes the teenage attitude and uses it to help us learn." Like many other students, Rusten will be disappointed when Mr. Packer leaves.
Mr. Packer is ready to keep having a great time after retirement. He looks forward to going to Hawaii, having time to himself, reading, and spending time with his grandchildren.
Finally, looking back on his many years of teaching, he said: "I have had a remarkable experience at Alta, and it's something I'll never regret."