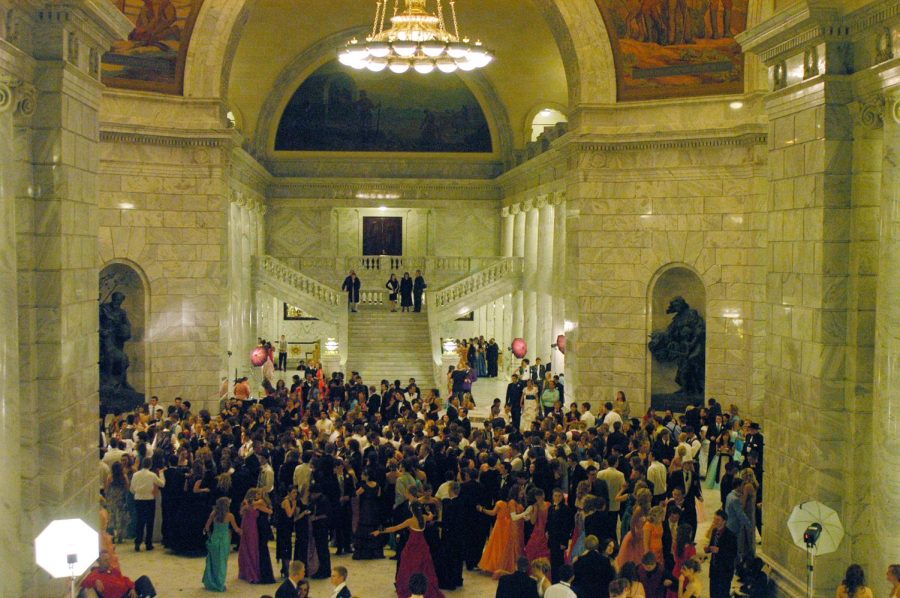 Prom 2023 Headed to the Capitol
Junior Prom at the Utah State Capitol is back this year.
It has been many years since the Junior Prom has been held there, so students are excited about this year's venue. The capitol has been unavailable for several years because of construction.
The upcoming prom is looking spectacular as usual. The theme "Can't Help Falling in Love," inspired by Elvis Presley's 1950's hit, is sure to spice up the fun.  
"Dances like prom are such a vibe," Lucy Pfeifer said. "Getting preppy with your friends, getting dinner and being fancy is such a fun part of the high school experience." 
Many students are excited to find out who the prom king and queen are going to be. This year's Junior Prom Court are as follows:  Reagan Tesch, Alaina Ogden, Lily Tu, Henry Hohl, Kevin Ma, and Donovan Bettinson. 
"I really enjoyed my last prom, I think it's a great opportunity for everyone to vote," Alaina Ogden said. 
Both Alaina and Henry Hohl were surprised their advisory class nominated them for prom royalty. "I was out of town and was totally surprised," Hohl said.
Donovan Bettinson showed his support to his fellow nominees, stating "You guys did good, I'm proud of you."
Voting for Prom Royalty will take place in the coming week.
Expense
Many students who wonder about coming to prom worry about costs, getting a date, finding a group or other dance related problems.
If expense is an issue, you don't need an expensive tux or even an expensive meal; you don't even need a date.
"Girls shouldn't wait to be asked," according to teacher Kjersti Barlow. "They should go and have fun with their friends."
Teacher Denise Ferguson agrees. Guys think they need an expensive tux and have to hire a limo. "That's a waste of money," Ferguson said.
Ferguson has taken yearbook photos at the Prom for years and has noticed that the extreme formality and necessity of renting a tux is not what it used to be. "It warms up on the dance floor and most guys take their tux jackets off," she said. "What the point of renting a tux, if you you just take the jacket off?"
Ferguson said if you want the tux look, just buy a cumberbund and a bow tie. You have the look without all the expense.
The important thing is to go. Attending the Prom is a once in a lifetime event, especially for members of the junior class. At the very least, the ambiance of the Capitol building and the memories from the event are once in a lifetime. Juniors will only be juniors once, so now is the chance. 
The dance goes from 8:30 to 10:30 pm.
Dancers are required to bring an Alta ID or show skyward to show one person in the couple is an Alta student. Be sure to buy tickets in advance online to save a little money. Online tickets are $20 and in person are $25.