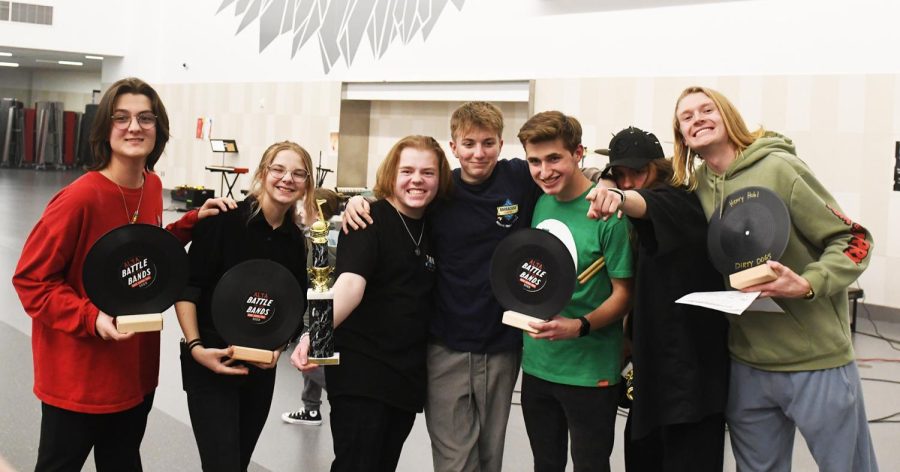 Dirty Dogs Take First in Battle of the Bands
After a several year hiatus, battle of the bands is back, with The Dirty Dogs coming out as this years champion.
"
It was awesome to bring back battle of the bands and I hope that we can keep it around for future students to enjoy."
— Kael Forsythe-Barker
Three bands competed in this years competition, Perfect Strangers, Indigo & Plain, and The Dirty Dogs, who would eventually be announced as champion. The Dirty Dogs, who came together three months ago, had been working hard, perfecting their music for the competition. Each band performed two songs, one cover, and one original song. The Dirty Dogs opened with a cover of Lady Madonna, by The Beatles, before playing an original, "They're Groovin!" The crowd showed their enthusiasm, as they won the audience choice, but then they had to sit and wait in anticipation for the judges to announce their final decision.
"I was so worried and my head was just filled with static waiting for the announcement," says Dirty dogs member Kael Forsythe-Barker, "When I heard Dirty Dogs get announced it took me a while to even register it, but from there the feeling was just so awesome."
Kael's enjoyment of the battle of the bands was reciprocated with the entire band, who he says would do it again in a heartbeat.
"The experience was really cool, and it was really awesome to bring battle of the bands back to Alta," Kael told the Hawkeye, "I want to encourage everyone to consider participating next year, and would love to help make battle of the bands a tradition that stays at Alta for years to come."