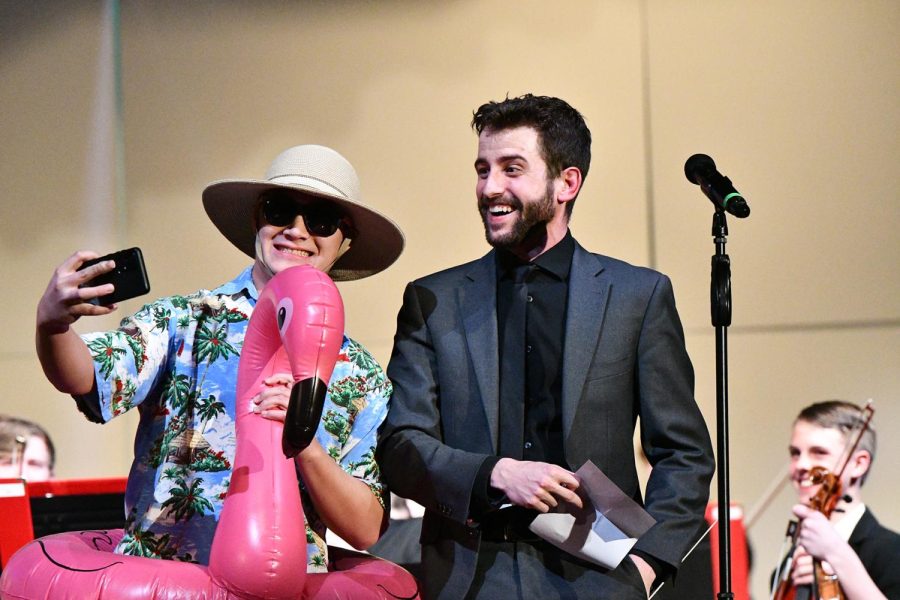 Concerto Night Was a Smashing Success This Year
Students were excited to have the opportunity to be in the spotlight
Playing a musical concerto solo with an orchestra full of instruments behind you is about as scary as it gets.
At the end of February eight students gave their nerves a challenge and performed a concerto piece with the accompaniment of the Alta orchestra.
A concerto is when a soloist performs in the spotlight with the orchestra. This event is a good opportunity for the soloist and the students in the orchestra to learn how to play harder music. Just like Caleb Shaberstari says, "I love how it challenges the orchestra to become the best that they can because the music they are playing is at the same level as the Utah symphony. He believes that this is a motivator to help the students work harder."
Each student starts by picking out a piece that they would like to audition with. Shabestari said, "Start thinking about what you want to do as soon as possible."
"
I love Concerto night because it's a great opportunity for students to have their moment to shine."
— Caleb Shabestari
The students are responsible for coming to the audition with a prepared piece.
At the audition, "Shabs and an outside judge come in to observe the pieces." says Ella Gardner. He then decides from there who he thinks would be the best fit to perform.
After students find out that they have been chosen, they immediately start practicing. Ty Spillet and the other performers have been practicing almost every day for months.
Shabs helps the students prepare by rehearsing in the chamber orchestra and by having 5-10 practices after school. He says, "We probably put in over 100 hours of practice total."
Another interesting part of Concerto night is that they get to learn the history of their pieces. Including: Ella Gardener, had to take the time to learn Italian for her piece, O MioBabbino Caro. They also have the opportunity to inform the audience about it.
All the performer's did a fantastic job using Shabs guidance on their performances. Each of them took so much time to prepare and it paid off. Ty Spillet said he loved the opportunity to be able to preform as a soloist.
Shabs said one of his favorite parts of Concerto night is hearing all of the final products. "It's really cool to see how the students have improved over time with their piece."
Ella Gardner added, "I hope that more people can get a chance to try out and preform at Concerto night next year. I definitely hope that I can preform again!"