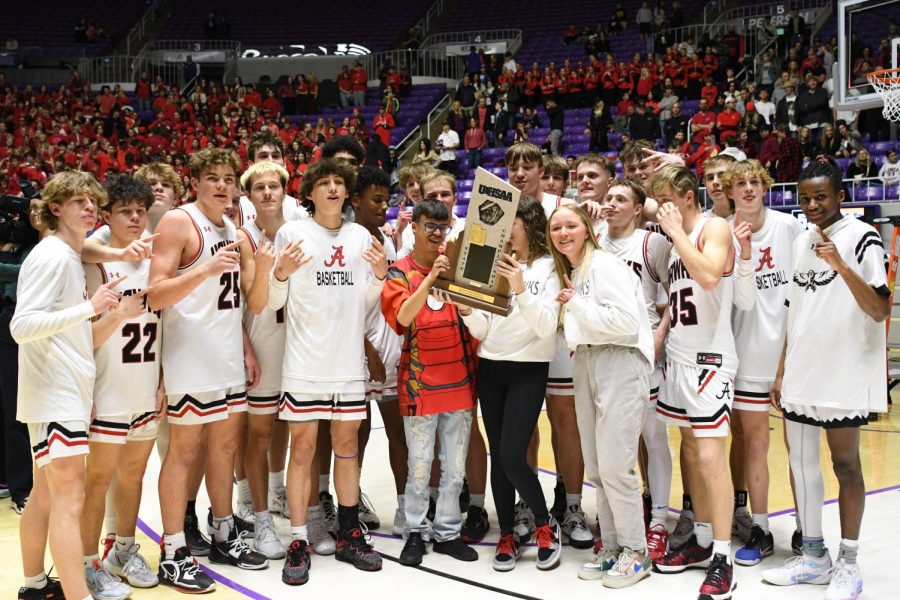 Alta Basketball's Manager Donovan Bettinson Helps Team Win State Title
The Alta High basketball team cut down the nets celebrating a state championship last Saturday, but the biggest smile wasn't on the face of any one of the players, coaches, or fans in the stand. Standing alongside the team was basketball team manager Donovan Bettinson, or as every student knows him, "Donny." That smile, as any student will tell you, lights up whatever room he's in.
Donovan moved into Alta part of the way through second quarter and immediately started making his mark on the school around him. A huge basketball fan, the first place Donovan went was to the basketball coach, Travis Ohrn.
"
We wouldn't have been the team we are without Donovan. He brought so much joy, and happiness to the team, helping us be better every single day."
— Coach Ohrn
"Donovan came to me wanting to tryout for the team, so we got him set up and ready to go," Ohrn told the Hawkeye, "On the first day of tryouts he came up to me and asked if he could just help with water bottles, practice, and stuff like that. I suggested he become a team manager, and the rest is history."
From day one, Donovan's optimism and positive energy radiated through to every player on the team. The team started off the season hot at 10-1, before finishing in region, going 20-4 and entering the playoffs as the 4-seed. Alongside them, and cheering them on was Donovan, who according to team mate Lance Green, never missed a practice. "Donovan was committed to the program and was always there, willing to help however we needed him to."
As the national anthem was played on senior night, Donovan sat nervously at the scores table, ready to announce the starting lineup for the hawks. "It was so cool to announce the seniors," said Donovan, "If I had to pick one memory from the whole season, that would be my favorite." Charged and ready to go, the hawks came out hot against Timpanogos, winning 82-42.
That momentum carried with them into the postseason, as they rushed past cross town rival Juan Diego, juggernaut one seed Olympus, all before besting region-foe Timpview in the finals. Chants of "Donovan! Donovan!" could be heard as he lifted up the hawks fifth state title, bringing an end to a 13 year drought.
"
Donovan brought so much support and energy. Spending a lot of time around him, I really got to know him and how sweet, kind, and loving of a kid he is."
— Lance Green
"Donovan worked just as hard and cared just as much as every single guy on our team," Lance Green said, "To see Donny hoist that trophy, and to see that big smile on his face was just awesome. Theres no doubt that his kindness and excitement helped propel us forward, and left an impact on all of us."