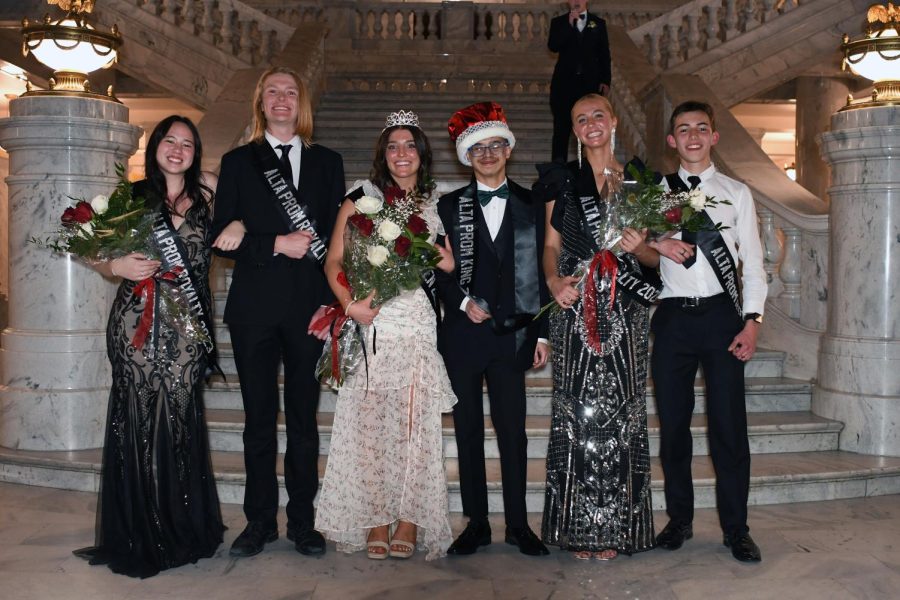 The Race for the Crown Comes to a Close; 2023 Prom King and Queen Announced
Love is in the air! Six candidates patiently awaited to see if they would be Prom King or Queen.
AT 10 p.m. at the State Capitol last Saturday, the Prom King and Queen Donavon Bettinson and Alaina Ogden made the promenade down the Capitol Steps. Prior to the the King and Queen announcement, Reagan Tesch and Kevin Law were announced as first attendants and Second Attendants Henry Hohl and Lily Tu followed.
Everyone cheered and celebrated as Brayden Mcgill sang "I can't help falling in love," which is about "being loved by someone you know."
For Donavon, being crowned King was an amazing experience. As the nominee from his advisory class, Dovanan had to prepare for the night. " First, I had to find a date and get a suit and tie," he said.
Alaina loved the dance and celebration. "I was sad that some of my friends who were nominated with me didn't win," she said. "But I felt so honored that I was able to have the opportunity."
After Prom King and Queen were announced everyone started chanting Donovan's name which he said was his favorite part of the whole night!
Other students said that the best part about prom was dancing with their dates and having a blast with their friends.
To get into the running, the students in each junior advisory nominated one boy and one girl. Those chosen had to send a video of their talent. This experience made Donavon very excited. He said that it was such a great opportunity for him and that it was cool that he was chosen out of everyone else in the school.
This also gave students the chance to get to know each other better. "My favorite part of prom was being prom queen with Donovan who was prom queen and being able to talk to him and get to know him," Alania said.
Brayden loved being part of this year's Junior Prom. He was able to do a repeat of his Alta Idol Elvis song, I Can't Help Falling in Love.
"This year's prom was so much fun and definitely an experience that I will never forget," Brayden said.