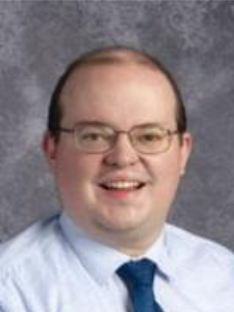 Mr. Farnworth- ghostbuster?? When Mr. Farnworth isn't teaching psychology, he likes to go places that are notorious for ghosts. He enjoys sharing his many ghost stories with his classes and the students may enjoy it even more. So it is no surprise that he loves traveling, ghost stories and watching movies.
"I am a huge movie buff. I love going to the movies with friends and family. I am a big traveler; I try to go to someplace new every year," says Mr. Farnworth. "I also love to go to haunted locations and learn and discover all of the different stories and mysteries haunted places hold."
Some of Mr. Farnworth's favorites are pasta, Twix bars, and watching the Big Bang Theory and White Collar. His favorite color is purple. 
Mr. Farnworth had originally planned to go to medical school to be a surgeon, but after those plans fell through he decided to serve an LDS mission. While serving he learned that he loved teaching. Returning from his mission he decided to go to college to become a professional teacher. He attended Utah Valley University where he graduated with a degree in secondary education. 
 "I like to tell stories, and I like to learn about my students and what they like to do," says Mr. Farnworth about how he connects with his students. "I like establishing professional relationships with my students." 
Mr. Farnworth says the hardest part about teaching is waking up at the crack of dawn everyday. His favorite thing about Alta is the students here. The one piece of advice he would give to his students is, "Don't give up. Keep trying, and do your best every time."
Mr. Farnworth loves his job and would love to have you in one of his classes. Alta High is so lucky to have him!